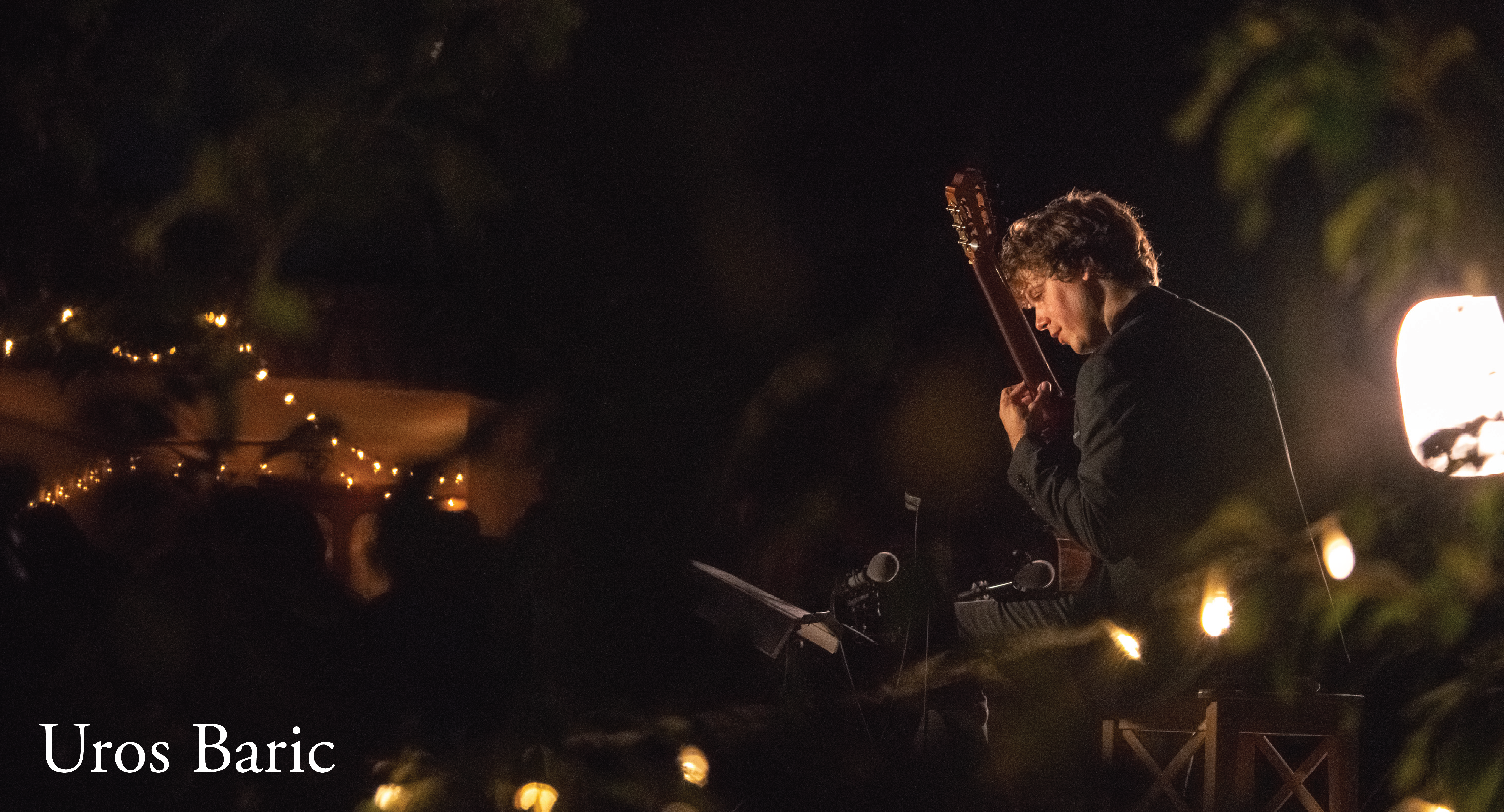 "Midnight by Uros Baric is filled with beautiful performances, sensitive phrasing, as well as elegant and colourful arrangements. His use of guitar orchestration perfectly suits the collection of works creating a warmth for the album that we wish would never end. Ample cross-string legato, flowing melodic phrasing, and a very sensitive touch make this album truly virtuosic in its musicality. Highly recommend." - This Is Classical Guitar
Uros Baric is an acclaimed classical guitarist, guitar instructor and music producer from Slovenia. He started his musical journey in his hometown Sezana with guitar teacher Igor Kos. While in high school, Uros studied guitar in Trieste with Marko Feri and won highest prizes at international competitions for young musicians such as 1st prize at Concorso Europeo di Chitarra Classica Premio Enrico Mercatali in 2004.
He holds a Master's Degree from Universität für Musik und darstellende Kunst in Vienna, where he graduated with honours in 2011, in the class of world-renowned guitarist Alvaro Pierri.
Uros has performed in several European countries (Slovenia, Austria, Italy, Switzerland, Scotland, Czech Republic, Slovakia) and taught masterclasses at international festivals like Classical Guitar Retreat, Kras Guitar Festival, Lent, ECHOS Festival and Postojna International Guitar Festival. His concert appearances include a solo recital at Slovenian Philharmonic Hall in Ljubljana, a series of concerts for GM oder Jeunesses Musicales, a solo recital at prestigious concert cycle Sounds of Classics at Ljubljana Castle and performances at Classical Guitar Retreat.
Uros has released four solo albums (Fernando Sor, 2014; Baroque Music, 2017; Midnight, 2018; Fingers of Time, 2020), a flute and guitar album Summer Skies and featured on Matthew McAllister's album American Collection.
He plays a wide variety of music, from early music to contemporary classical music, while also exploring genres like traditional, fingerstyle, popular, Latin American and film music.
Uros is quickly establishing himself as one of the classical guitar and recording authorities online. His YouTube music videos and tutorials have had millions of views and his channel has gained a large following of 12000 subscribers and growing. He also runs Guitarise, an online classical guitar learning platform.
He is the founder of Baros Records, an independent record label and recording studio focused on releasing high quality classical guitar music.
Uros is Augustine strings and Earthworks microphones artist. He plays a Michele Della Giustina concert guitar.