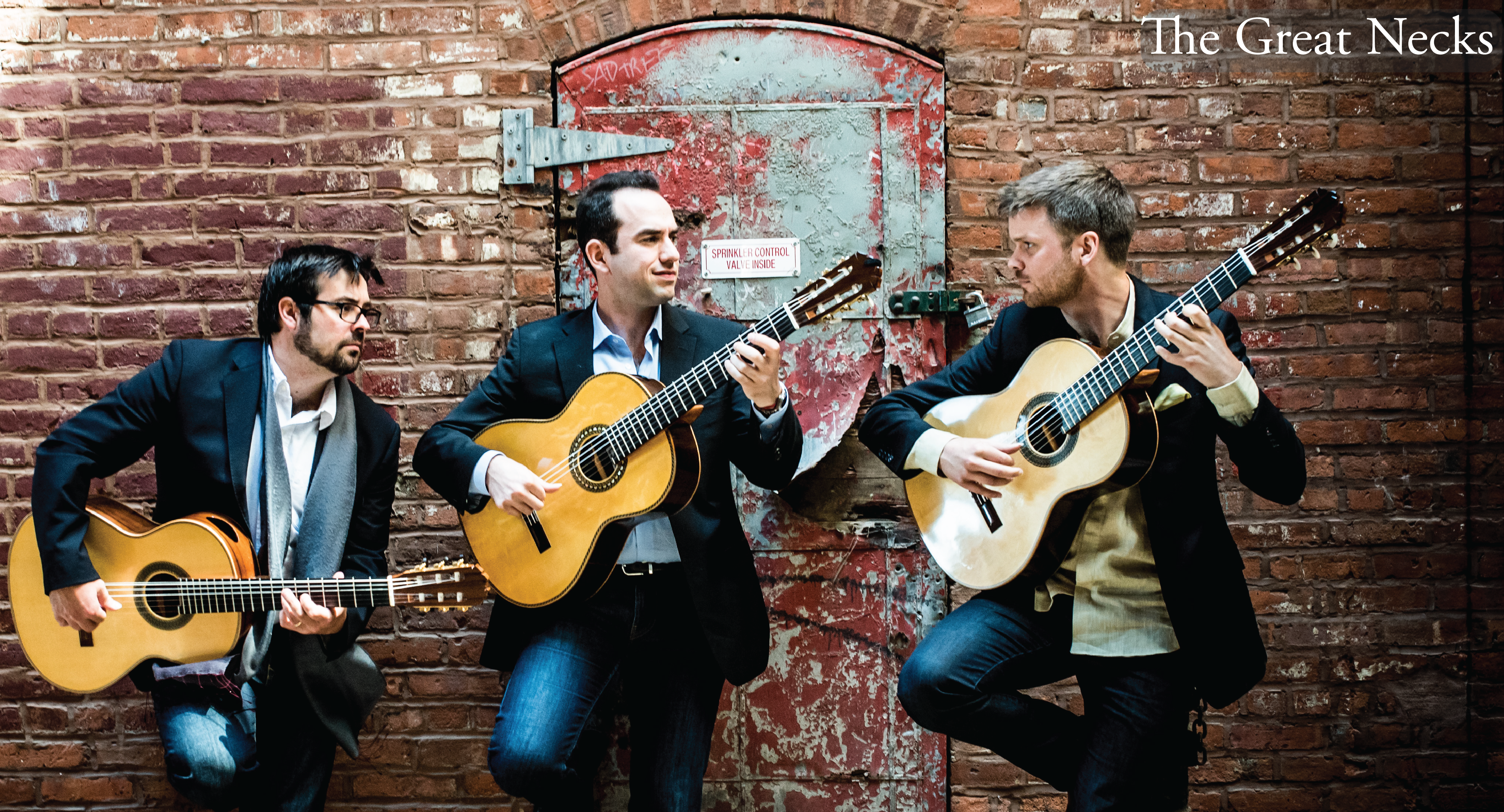 "This is the most fascinating thing I've heard in ages ... Some of the most inventive artistry you are likely to find in today's guitar world." - American Record Guide
The Great Necks Guitar Trio has enchanted audiences across the US with its whimsical, interactive, and daring performances. Founded by guitarists Scott Borg, Adam Levin, and Matthew Rohde, the trio, through its original madcap arrangements, stretches at the conventions — and at times, the physical limits — of the guitar. "These guys aren't afraid to shake things up and take chances," writes Classical Guitar Magazine.
The trio's debut album, Original Arrangements for Three Guitars, released in November 2018 on the Frameworks/Sony label, reached the top 10 in the Traditional Classical Billboard charts . The album is an exuberant romp through several centuries of orchestral and keyboard repertoire and was praised as "a wonder to behold" (Classical Guitar Magazine), "the most fascinating thing I have heard in ages" (American Record Guide), and audacious, with color and verve...thrilling (Boston Music Intelligencer).
Recent and upcoming concert appearances by The Great Necks include The Boston Classical Guitar Society, Arizona Bach Festival, Yale Extravaganza, Troy University Guitar Festival, "Sunday Chatter", The Austonian, Colorado State University, Mid-Maryland Guitar Festival, University of Rhode Island Guitar Festival, Trinity-By-The-Cove, and the Aguado Guitar Series.
As soloists, educators, and composers, they have distinguished careers of their own, marked by regular festival and concert appearances across five continents and a growing solo discography on the Naxos and Odradek labels. Adam Levin has been praised by the Washington Post for his "visceral and imaginative performances." Of Scott Borg's Carnegie Hall debut, New York Concert Review wrote: "each note was purposeful and focused." A composer, Matthew Rohde recently completed the score to the "beautifully executed" (L.A. Times) 2018 HBO documentary It Will Be Chaos.
The Trio performs on a set of guitars -- 'Aranda,' 'Paladina,' and 'Helios' -- by Stephan Connor. For more information, please visit www.thegreatnecks.com