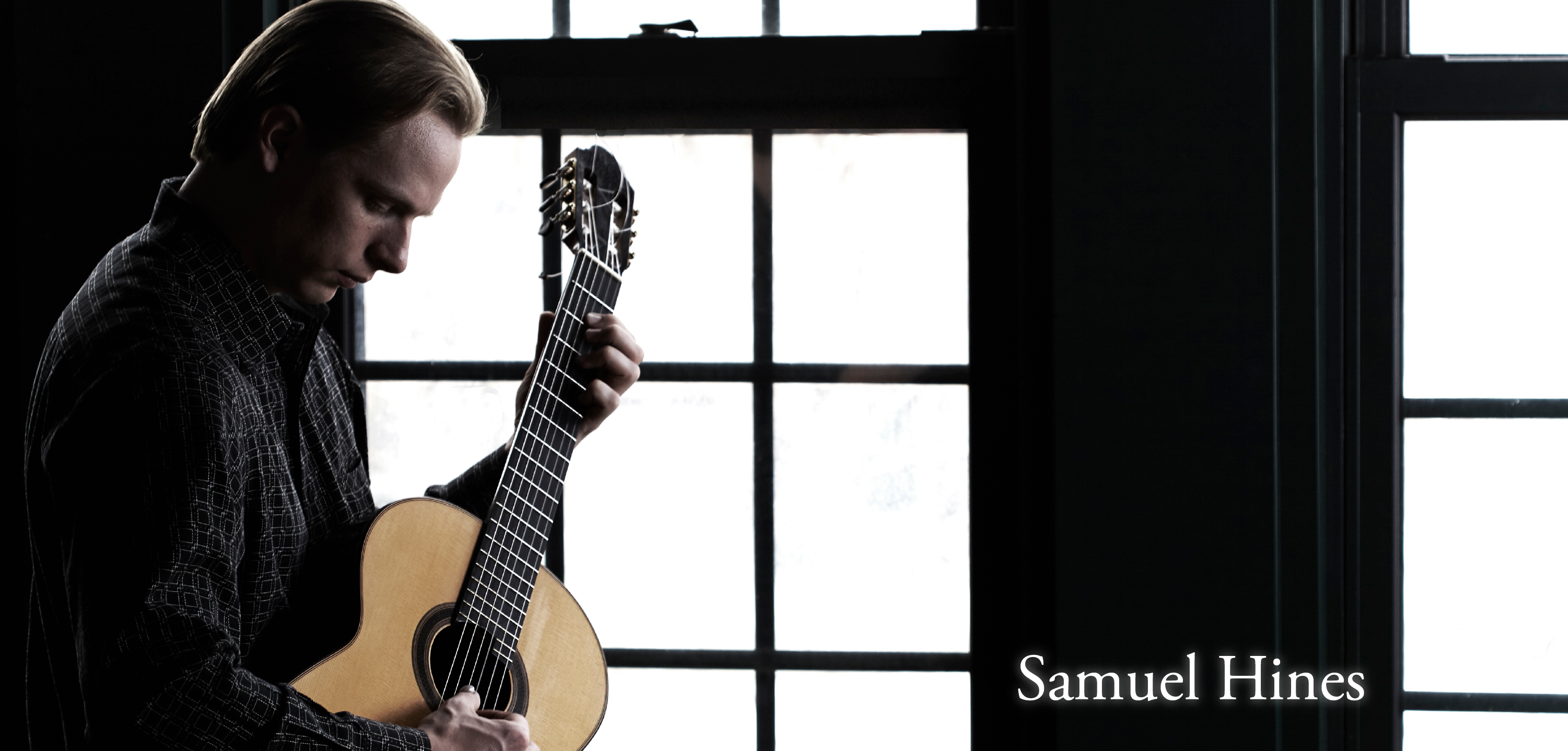 "Samuel Hines is a profound musician and has
matured to become a remarkable guitarist.
His artistry will touch many!" - Rene Izquierdo
Praised for, "Virtuosity and deep musical interpretation", Samuel Hines is an award-winning guitarist from Southern California. His passion for music and guitar is clearly seen by those who experience his music. His teacher, Cuban virtuoso Rene Izquierdo has described his pupil as, "A profound musician, Samuel Hines has matured to become a remarkable guitarist. His artistry will touch many!"
Recent invitations include the International Guitar Series, in Grand Rapids, Michigan, and as a guest artist at festivals in California, Florida, North Carolina, and Wisconsin. Besides a busy performance schedule, Hines has won prizes in over 30 competitions, with recent first prizes including the 2019 Houston Guitar Festival, the 2019 New Orleans International Guitar Festival, the 2019 Appalachian Guitarfest, the 2017 Florida Guitar Festival, the 2017 East Carolina University Guitar Festival, and the 2015 Sierra Nevada International Guitar Festival, among others. Hines was also a competitor at the prestigious Parkening International Guitar Competition, selected as one of 15 competitors from around the world for participation at the 2012, 2015 and 2019 editions.
His educational background includes a Bachelor of Music from Vanguard University of Southern California with Michael Nigro, a Master of Music at University of the Wisconsin-Milwaukee with René Izquierdo and is pursuing his Doctor of Musical Arts with Maja Radovonlija where he is the teaching assistant.
He has also performed for many of today's greatest artists of classical guitar, including David Russell, Manuel Barrueco, Christopher Parkening, Judicaël Perroy, SoloDuo, the Romeros, and GRAMMY award-winning Los Angeles Guitar Quartet.
Hines passion for music goes beyond just performance, but by sharing the joy of music through teaching. Recent teaching experience includes teaching assistant for Rene Izquierdo at the UW-Milwaukee, guitar teacher at Maranatha Baptist University and the Academy of Performing Arts as well as a private studio.
Hines now lives in Mora, Minnesota, with his wife Katherine, and enjoys hiking, nature, and good coffee. Samuel Hines plays a 2014 Antonio Marin Montero from Granada, Spain with Augustine Regal Blue Strings.
www.samhinesguitar.com