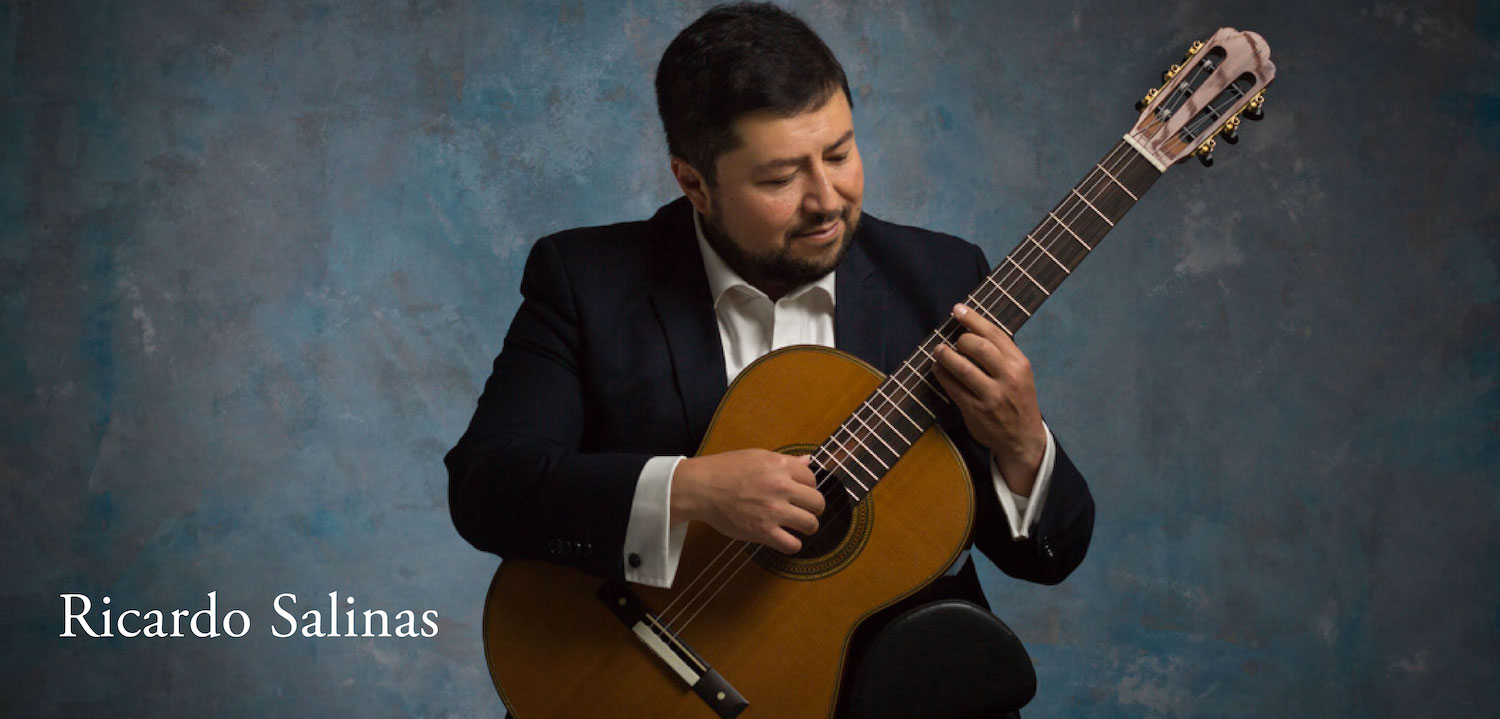 Regarded as one of the most outstanding guitarists of his generation, Ricardo Salinas completed his Instrumentalist-Guitar Degree and Master's Degree in Musical Education at the National School of Music (now the Faculty of Music) of the UNAM, receiving recognition of high academic level, as well as the "Gabino Barreda" medal for being the best student of the career.
Ricardo has taken courses on guitar improvement and guitar ensembles with prestigious personalities such as Abel Carlevaro (Uruguay), Ricardo Cobo (Colombia), David Tanenbaum (USA), Simone Iannarelli (Italy), Frank Longay (USA), MaryLuo Roberts (USA), Giampaolo Bandini (Italy), the Los Angeles Guitar Quartet (USA), the Entrequatre Guitar Quartet (Spain), the Amadeus Guitar Duo (Canada-Germany) and the Assad Duo (Brazil).
He is the director of the Ricardo Salinas Guitar Studio, where since 2010 he develops life skills, promotes attitudes of value and promotes high-level guitar practices in boys and girls from 3 years old. He is the founder and CEO of "Grupo RS", whose goal is to bring musical learning to children, youth and adults around the world. He was a guitar teacher at the National School of Music of the UNAM, of the Technological University of Mexico, of the Cedros School Center and of the Pan American University, where he held various positions in the Department of Art and Culture, a school project without precedent in the musical field chosen by the UN and the International Council for Caring Communities as one of the model projects to follow to achieve the Millennium Development Goals. He is a regular lecturer and counselor to educational projects on issues of Artistic Education, Innovation and Educational Technology. He performs in concert as a soloist, in chamber ensembles and with an orchestra in Mexico and abroad.
He is doing the Home Tour Mexico that will cover all of Mexico in 2022 and 2023 on the occasion of his 30 years old career. He is a figure in social networks sharing his various activities as a concert artist, educator, entrepreneur, athlete, among other passions. His musical production is available on digital platforms such as Spotify, Apple Music and YouTube to mention the most important.