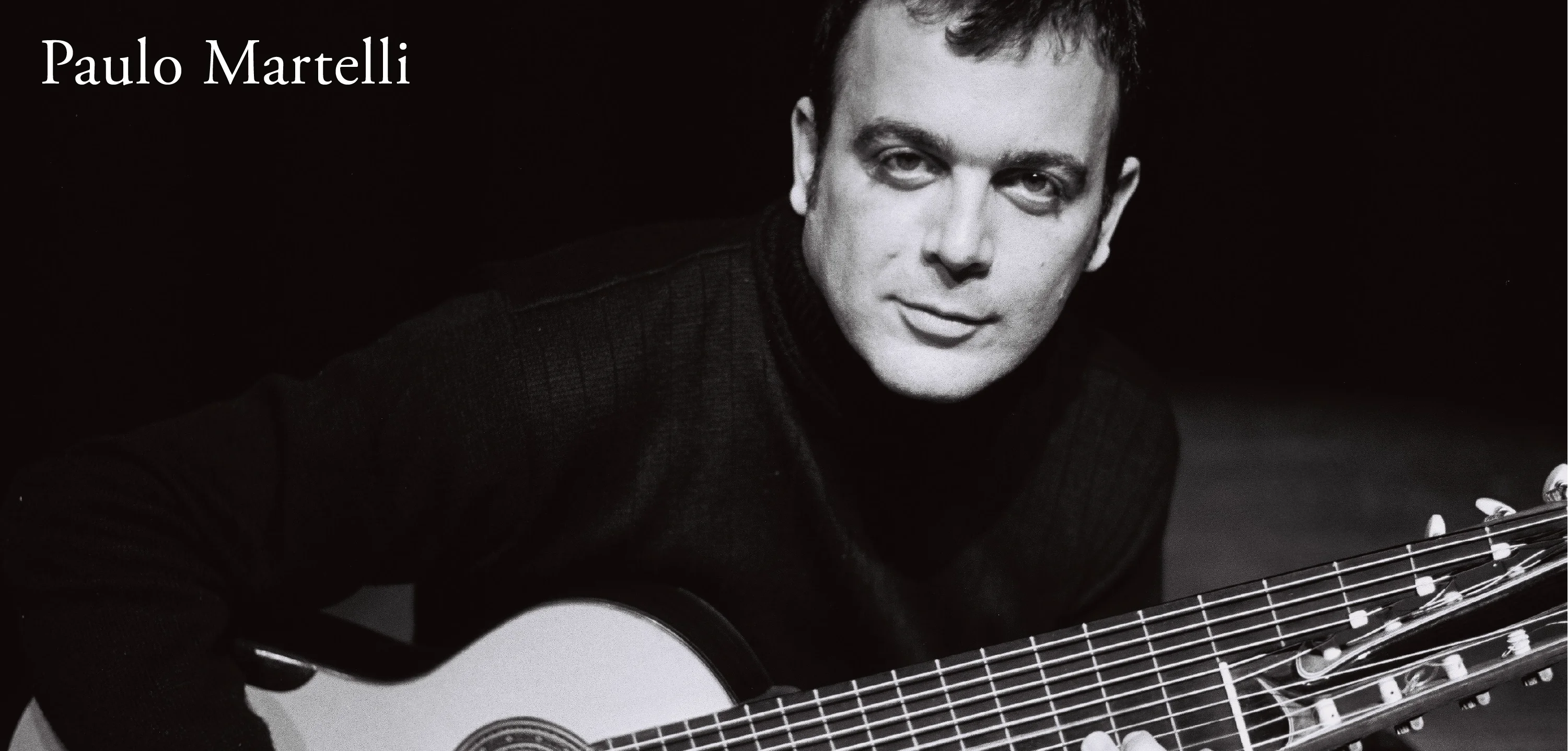 Described as "one of the best guitarists of his generation" by Soundboard Magazine and Guitar Player Magazine, Paulo Martelli has been revolutionizing the guitar scene of his home country Brazil. Paulo has also achieved international recognition as an exceptional performer and prolific entrepreneur.
An acclaimed performer as well as winner of several international competitions and awards, Mr. Martelli has appeared as a soloist and with distinguished orchestras and chamber music ensembles in Brazil and abroad, including the Metamorphosen Chamber Orchestra, Grammy Award-winning violinist Mark O'Connor, and the Campinas Orchestra for the Brazilian premiere of Francisco Mignone´s Concerto for Guitar and Orchestra. As a recording artist, Mr. Martelli has released four albums acclaimed for their "perfection" (Classical Guitar Magazine, UK), "solid and brilliant technique" (Soundboard Magazine, USA), and "impeccable musicality" (Gendai Magazine, Japan).
In 2019 Mr. Martelli won the prestigious prize of PPM, an award for professional classical musician of the year in Brazil. In the same year he recorded the premiere of 20 Brazilian Popular Etudes by Geraldo Vespar. He also worked on the revision and edition of this music for the GuitarCoop label.
In recent years, Mr. Martelli has been recognized as one of the masters of the 11-string guitar. He recorded two CDs and a DVD for the GuitarCoop label with his own arrangements for the music of J. S. Bach, released in 2017 and 2018 respectively. As a guitarist, his lyricism and effortless technique along with his constant encouragement of new works for the instrument have placed him as one of the foremost guitar virtuosos. His innovative arrangements of works by J. S. Bach for 11-string guitar have been praised by critics as "outstanding" and "miraculous."
In 2012, Mr. Martelli premiered Lendas Amazônicas, a fantasia concertante for two guitars and orchestra written by legendary Brazilian guitarist Marco Pereira. The concert was broadcast live for SESCTV featuring Mr. Martelli and the composer himself as the soloists. Mr. Martelli's interest and dedication to expand the repertoire of the guitar has led to numerous composers dedicating new works to him, including Sérgio Assad, Geraldo Ribeiro, Douglas Lora, Marco Pereira, João Luiz, and Mark Delpriora, among others.
As an entrepreneur, Paulo Martelli created Movimento Violão, an international concert series that for over seventeen years has presented some of the world's finest guitarists, and showcased Brazil's finest up-and-coming musicians. Each season of Movimento Violāo is broadcast nationwide on Brazilian television and released on CD and DVD, presenting artists with new standards of excellence while also producing an unparalleled archive for future generations. In 2011 Mr. Martelli premiered Movimento Violão in the United States with a solo performance at the Kennedy Center, which was webcast live and streamed over the internet on-demand.
Alongside his work as a performer, Mr. Martelli is widely respected as an educator and scholar, having held the chair of the guitar department at the University of Ribeirão Preto (UNAERP), Brazil for several years. Also committed to private teaching, he has prepared young talents for successful auditions in top music schools such as The Juilliard School and Manhattan School of Music. In 1999, in recognition of his many years committed to music education, the Brazilian Ministry of Culture awarded him the "Virtuoso Scholarship" that allowed him to research tablature systems at the Manhattan School of Music in New York City. In 2000, he was a recipient of the Andrés Segovia Award, one of the highest honors in the field of classical guitar.
Mr. Martelli holds a masters degree from The Juilliard School and a professional studies diploma from Manhattan School of Music. He presented his New York City debut recital at Weill Recital Hall at Carnegie Hall in 1995, where he has returned to perform on several other occasions. He holds a doctoral degree from UNESP in São Paulo, Brazil, where he is currently a guitar teacher.
Mr. Martelli began studying guitar at the age of ten, under the guidance of Francisco Brasilino and Henrique Pinto. Later, he became a mentee of legendary virtuoso Sérgio Abreu. He has given concerts in important venues in USA, Israel, Canada, Europa and Brazil.
Mr. Martelli is currently working on his next recording project for the GuitarCoop label-- his own arrangements for alto guitar of the complete works of J. S. Bach for lute.