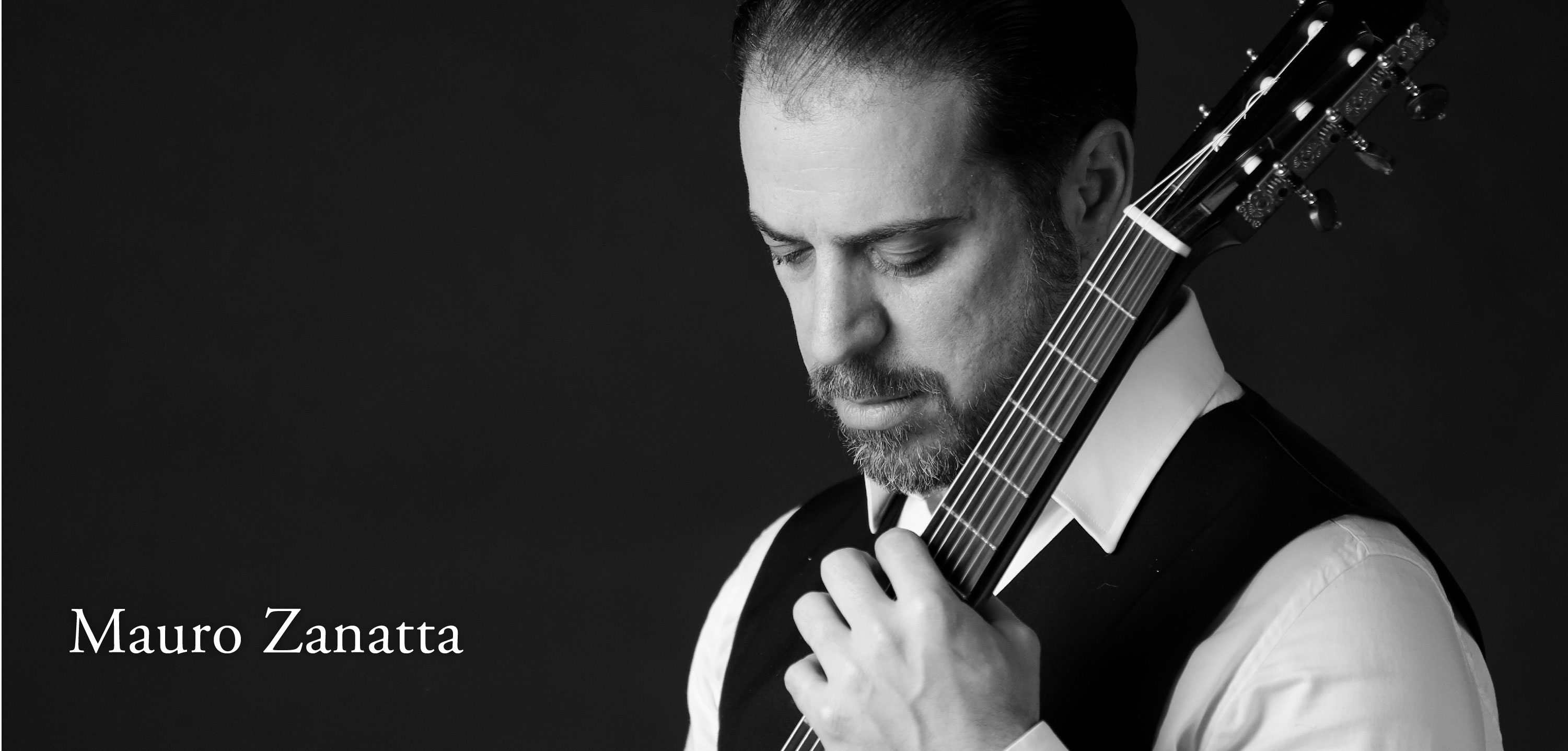 Considered as one of the most renowned and talented guitarists of his generation, Mauro Zanatta was born in Treviso, Italy in 1977 and started to play guitar at the age of 6. He graduated with the highest honor in the Conservatory of Music "E.A.Dall'Abaco" in Verona, Italy under the guidance of maestro Giampaolo Gobbo. He attended the "Francisco Tárrega" Guitar Academy of high performance and interpretation with Maestros Paolo Pegoraro and Stefano Viola. During his years as a student he had the honor to learn from world renowned guitarists such as David Russell, Alvaro Pierri, Tilman Hoppstock, Carlo Marchione, Angelo Gilardino, Oscar Ghiglia and Stefano Grondona. Mauro has won several national and international guitar competitions highlighting the followings:
- First Prize and Prize for the Best Interpretation of Spanish music at the eminent "Julián Arcas" international guitar competition in Almeria - Spain.
- First Prize at the "Benvenuti Terzi" international guitar competition.
- First Prize at the "Enrico Mercatali" international guitar competition.
- First Prize at the "Fernando Sor" international guitar competition.
- First Prize at the "Mario Castelnuovo Tedesco" international guitar competition.
- First Prize at the "Niccoló Paganini" international guitar competition.
Regularly invited to the most important guitar festival around the world, he attends an intense concert schedule, performing in several European countries including Italy, Slovenia, France, Spain, Portugal, Switzerland, Czech Republic, England. During two years he represented the Friuli Venezia Giulia province giving recitals in the prestigious Philharmonic Concert Hall in Kiev. Since 2015 he is living in Mexico where he performs in numerous guitar festivals, giving masterclasses, conferences in the most eminent universities and conservatories along the whole republic.
Apart from the traditional six-strings guitar, he frequently plays on a 13 strings instrument made by the italian luthier Marco Maguolo. The 13 strings guitar was conceived and designed by Mauro Zanatta himself. Tuned in d-minor, as the same french baroque lute, it aims to approach and get close to the sonority and the beauty of the ancient music, making possible a more accurate and faithful interpretation of this fascinating and large repertoire. His deep passion and inexhaustible interest for the renaissance and baroque music, is reflected in his numerous transcription works for the modern guitar originally belonging to the luth, harpsichord and organ repertoire; in addition he frequently proposes this beautiful repertoire in his concerts.
His recitals have received excellent reviews; music critics and audiences have praised the deepness of the musical thought, the accurate tone research in its expressive and dynamic naturality, the repertoire variety and amplitude, as well as the originality and stylistic adherence in his interpretations. Nowadays Mauro is the professor at the Conservatory of Music COMEM in Toluca, Mexico. He plays a guitar by the German luthier Gernot Wagner with Augustine Strings.