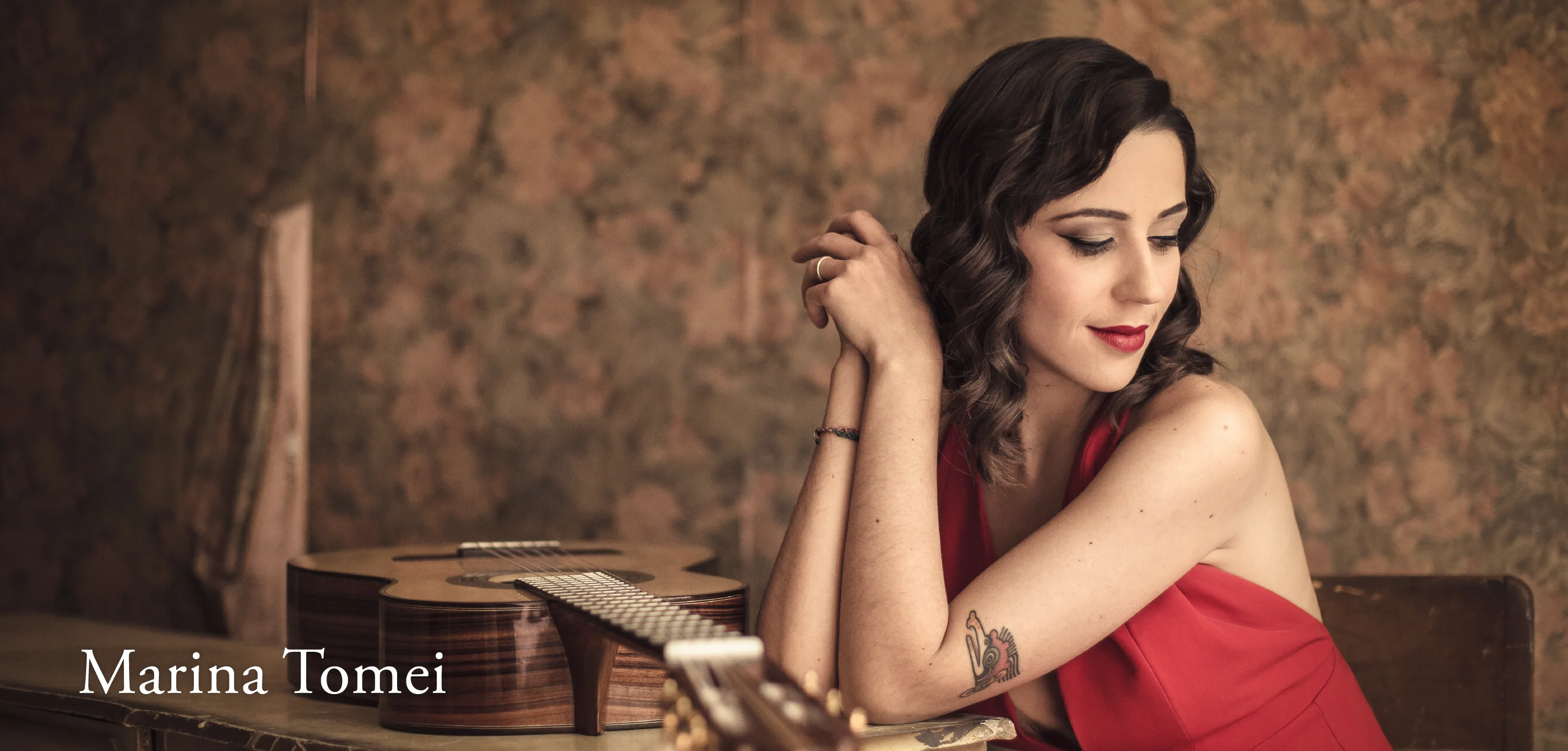 Guitarist from Rome, Marina Tomei is among all the most active young Italian guitarists in the world music scene.
She began to study guitar with Bruno Battisti D'Amario, the historical guitarist of Ennio Morricone.
She continued her academic studies in Florence, as a fellow at the Conservatorio di Musica Luigi Cherubini, where she studied with Maestro Francesco Cuoghi. She received her degree in guitar under the guidance of Maestro Arturo Tallini at the Conservatory of Music Santa Cecilia in Rome. She worked in Masterclass with Dusan Bogdanovich, Magnus Andersson and Ricardo Gallen among others. She was selected to attend the Aspen Music Festival and School, under the instrumental direction of Sharon Isbin, and the famous Accademia Chigiana in Siena with Oscar Ghiglia.
Marina Tomei has offered recitals as a soloist in numerous concert seasons as well as international guitar festivals in Europe and America, playing in important forums such as the Carlos Chavez Hall, the Palacio de Bellas Artes , the National Auditorium (Mexico), the Miraflores Theater (Peru) and the Columbia College (United States), Castel Sant'Angelo , Napoleonic Museum, Verdi Theater, Puccini Theater (Italy), among others. She has also performed with various chamber ensembles with which she participated in GuitFest, in a premiere concert of contemporary works by important Italian composers in Rome; and with the soprano Lourdes Ambriz, with whom they had presentations in forums such as the Manuel María Ponce room and the Instituto Cervantes. She also collaborated with the Department of MNT (Musica e Nuove Tecnologie) of Florence for the premiere of multimedia works in various forums such as the Fonoteca Nacional (Mexico City), and in Florence, within the LDMAC Program of the Youth. Festival Orchestra.
She played as a soloist with the Chamber Orchestra of the Michoacana University, with the Philharmonic Orchestra of Sonora, with the Zacatecas State Chamber Orchestra, with the IUBA Chamber Orchestra and with the Chamber Orchestra of the Faculty of Fine Arts. She regularly has presentations on national televisions (CNN, Channel 11, Televisa, Rai,) and radio recordings (IMER, Radio UNAM). She is regularly invited to be part of the jury in international competitions.
She is pursuing his second Master's degree at the Accademia Internazionale di Imola under the direction of Arturo Tallini, Marcin Dylla, Giovanni Puddu, Tampalini and Matteo Mela.
She is currently professor at the Faculty of Music of the National Autonomous University of Mexico (UNAM), from the same Institution she concluded her Master's studies in Musical Interpretation as scholarship holder, under the guidance of Maestro Juan Carlos Laguna.