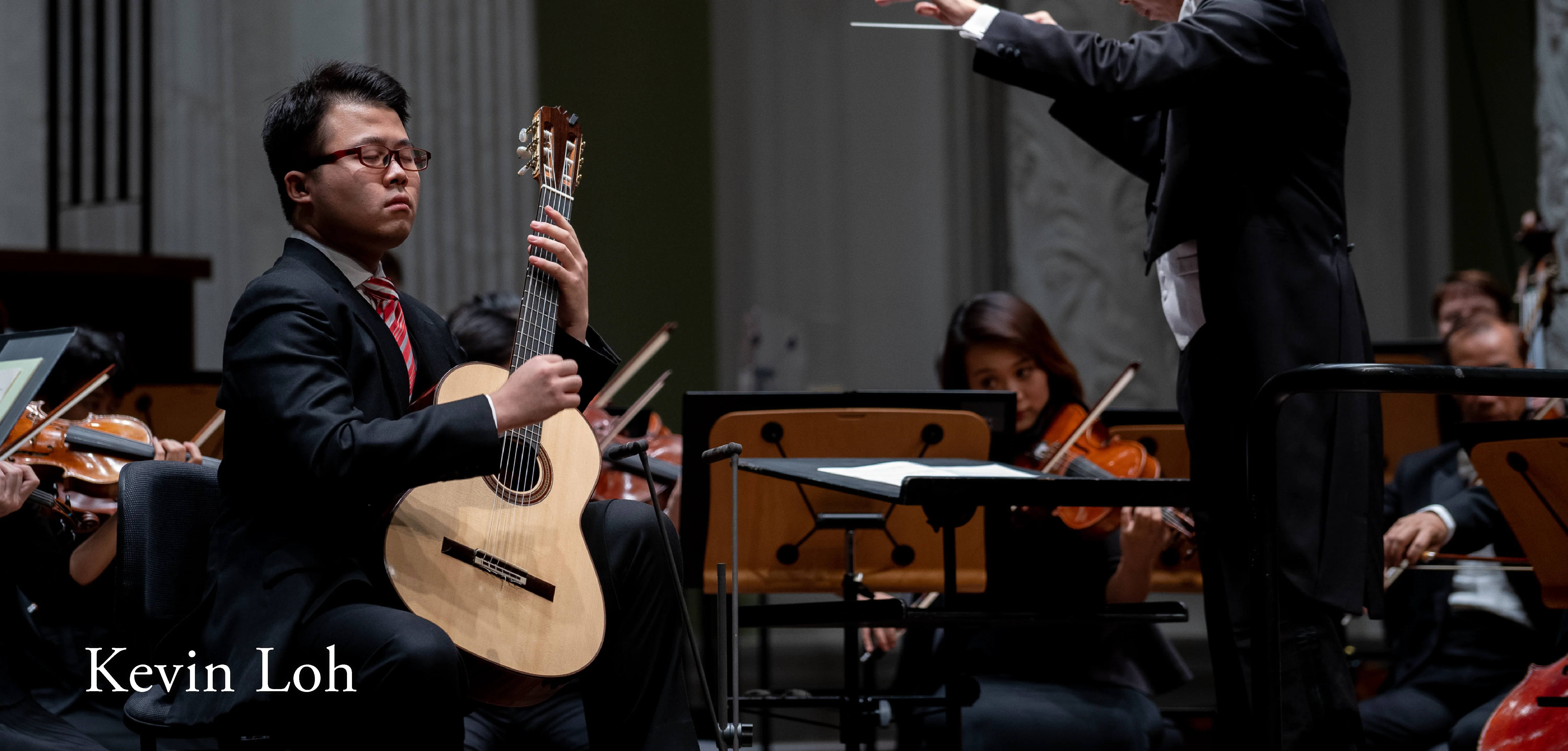 "I have rarely seen a talent like Kevin Loh. His musical maturity, execution and artistic poise are rare traits at such a young age." - Rene Izquierdo
Born and raised in Singapore, Kevin Loh is one of the leading classical guitarists of his generation. His extraordinary musicality has won him many international accolades, including the Cambridge University Musical Society Concerto Competition and, in 2020, the London International Guitar Competition. Kevin was talent-scouted by The Yehudi Menuhin School in the UK via his YouTube channel when he was only 12 years old, where he was awarded a grant by The Rolling Stones to study at the prestigious music school as their first Asian guitarist.
Kevin actively performs all over the world, including appearances in the Wigmore Hall in London, the Berlin Konzerthaus and the Suntory Hall in Tokyo. He has been invited to many guitar festivals in London, Hong Kong and Calcutta amongst others as a performing artist, giving masterclasses as well as sharing his knowledge and experience on developing as a musician. In addition, Kevin has worked with various orchestras including the Singapore Symphony Orchestra, with whom he gave the world premiere of the Guitar Concerto by Singaporean composer Prof. Bernard Tan in 2013. More recently, Kevin was named the 2019 Singapore Symphony Orchestra's 'President's Young Performer' and performed the iconic Concierto de Aranjuez by Joaquin Rodrigo.
Besides being recognized internationally as one of the finest young classical guitarists, what sets Kevin further apart is his great passion, optimism, enthusiasm and consistent efforts to inspire and to contribute to local communities in Singapore and across the region. Ever since he was six years of age, Kevin started participating in many fundraising activities and outreach programs to local institutions, the heartlands and around Asia. He regularly visits schools to share more about the guitar and music education. He also raises funds through his music for various charities and initiatives such as ChildAid, which strives to provide opportunities for underprivileged children to have exposure in the arts. In 2010, Kevin gave his solo debut concert at the Esplanade Concert Hall and raised USD$150,000 for The Business Times Budding Artist Fund and The Straits Times Pocket Money Fund. In 2016, Kevin joined students and staff of The Yehudi Menuhin School to help transport supplies to "The Jungle" refugee camp in Calais, France and performed for the refugees, migrants, and volunteers.
Kevin recently finished serving two years of military service in the Singapore Armed Forces, before pursuing his undergraduate degree in Music at Girton College, University of Cambridge as the College Music Scholar as well as a scholar of the Loke Cheng-Kim Foundation.