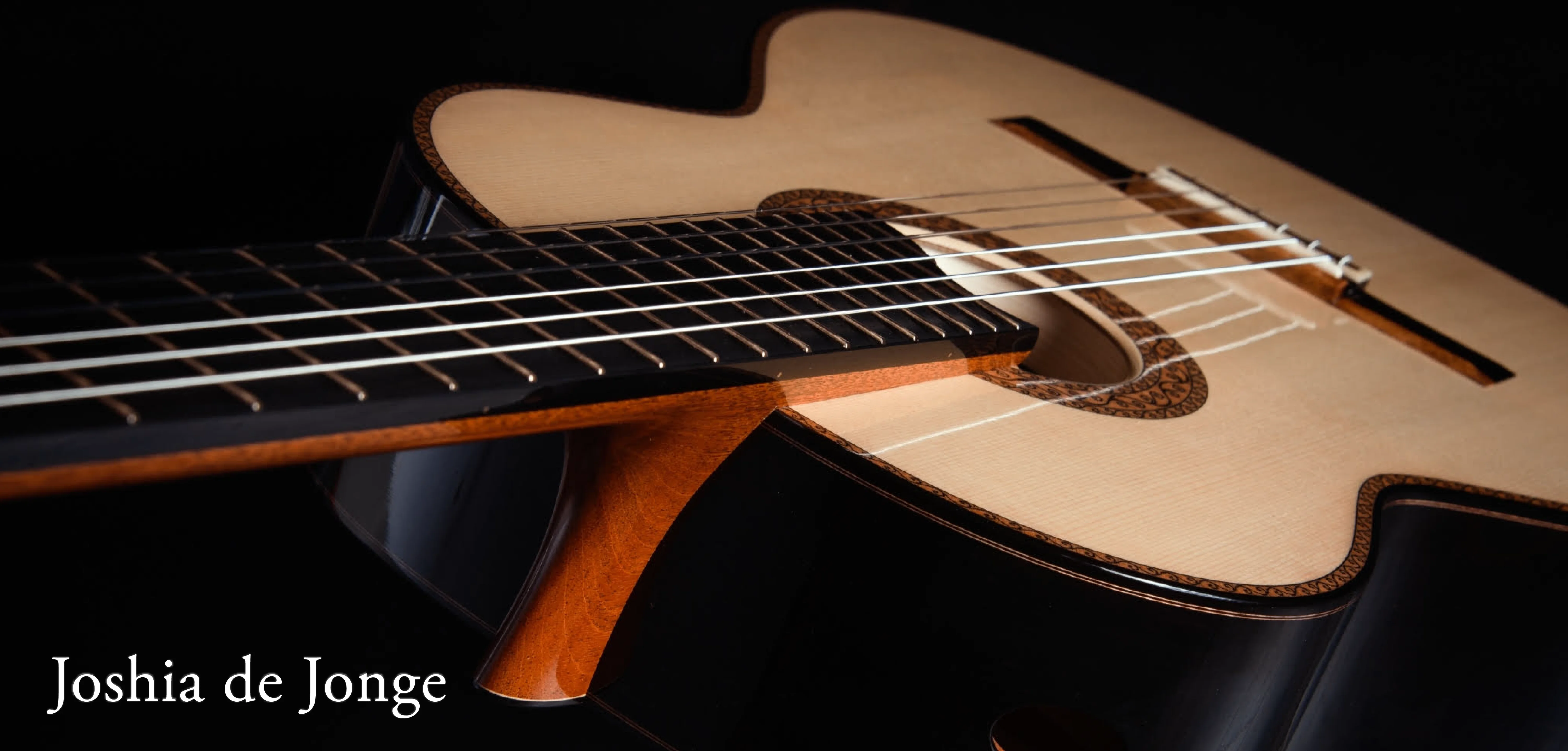 "I absolutely love the projection, colours and the fact that this instrument is easy to play. Works from Narvaez to Murail! I wasn't even looking for an instrument when I came across the guitar built by Joshia de Jonge. But eventually
I just had to get it." - Otto Tolonen
Growing up in a family of guitar makers it was not unusual for us to have dinner-table debates about Sitka versus Englemann, Indian Rosewood versus Brazilian. My brothers and I strived to out-do each other and meet the high standards of our father, Sergei de Jonge.
I was thirteen when I built my first guitar in 1992. What began as an interesting pass-time has grown into a life's passion of honing my craft and perfecting the intricacies of design. I primarily learnt from my father, having worked alongside him for much of my career, then later assisting as a teacher in his guitar-building courses, and I was also fortunate to spend time with Géza Burghardt, who taught me French polishing. I have since moved into my own worshop in the rugged Gatineau Hills of western Québec, Canada
At the 1998 Guild of American Luthiers Convention I received a standing ovation for my guitar – I was nineteen at the time – following a listening session judged by a jury of respected guitar makers. Up until that point my guitars were built using a traditional fan-bracing pattern, but that guitar employed the lattice design developed by my family. I have been perfecting my pattern ever since. The lattices I employ provide superior structure and unify the top into one vibrating surface. These lattices assure my instruments of powerful projection, clear note distinction and a fine balance between the strings. In addition to tone, as a guitar maker I am concerned with the playability and ergonomics of my instruments. I shape a subtle twist into the neck of my guitars which affords the player a more comfortable playing position. I use a traditional recipe comprised of shellac and other natural resins for French polishing, that improve both durability and lustre of finish. I prefer natural hide glue. In essence, my guitars are a fusion of traditional and contemporary design with a minimalist aesthetic.
Building a limited number of guitars a year allows me to pay close attention to detail. While volume is important, quality of tone is imperative. With every instrument I craft I strive to achieve a full, pure tone that inspires and compliments each player.
My guitars are strung with Augustine Strings.