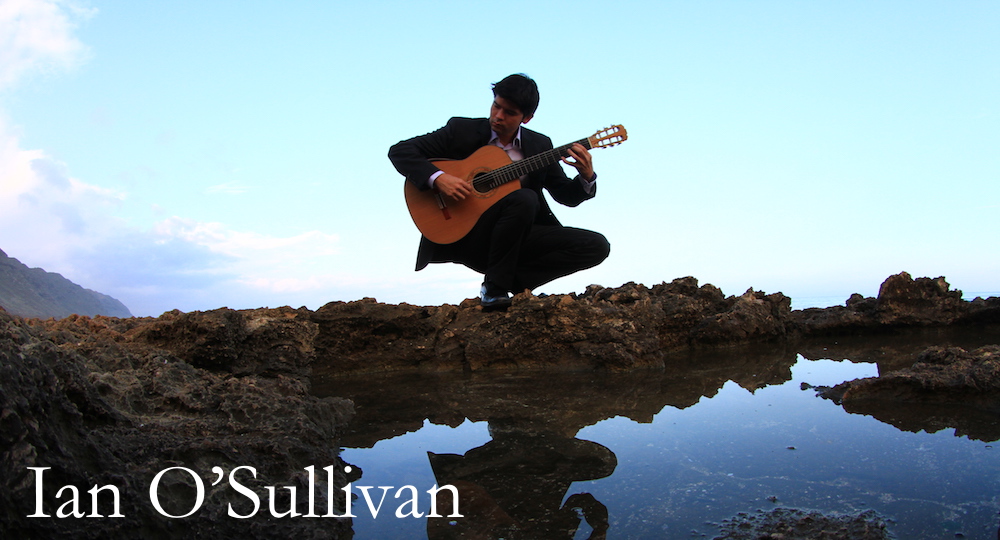 "A player of great depth and sensitivity" - Classical Guitar Magazine
Ian O'Sullivan is a classically-trained guitarist and composer from the North Shore of O'ahu. Well-versed in Hawaiian music and the 'ukulele, in addition to the Western classical repertoire, Ian has performed with guitar luminaries such as Benjamin Verdery, Andrew York, Carlos Barbosa-Lima, Scott Tennant and Martha Masters just to name a few. He has performed internationally as well as throughout the United States including Carnegie's Weill Recital Hall. In 2013 Ian released his first solo album "Born and Raised," featuring his original compositions alongside music of fellow Hawaii composers. In 2016 he released his second album "Songs for the North Shore"- a set of original compositions written for specific places and stories from the North Shore of O'ahu.
As a child, Ian began playing the 'ukulele by ear. He then experimented with electric guitar in a rock band during high school years, familiarizing himself with contemporary styles of reggae, hip-hop, and rock through tablature and recordings. In 2001, Ian entered the University of Hawai'i at Mānoa as a marine biology major. During his years at UH, Ian transformed from a non-music-literate garage band guitarist to being the first Hawaiian guitarist to be accepted to Yale University's School of Music.
Ian's past performances include the New York Classical Guitar Society, Minnesota Guitar Society, Peninsula Guitar Series, Korea International Guitar Festival, Na Hiwahiwa Festival in Tokyo, and Benjamin Verdery's Maui Guitar Class. Ian's next projects include a book of sheet music to pair with his first album "Born and Raised" and an album of music by early Hawaiian composers including Queen Lili'uokalani, and Charles E. King. He also recently completed a 2 year Master/Apprenticeship program with Jazz 'Ukulele Master Benny Chong with a grant from the Hawaii State Foundation on Culture and the Arts. Ian currently teaches at the University of Hawai'i and is the Director of Guitar/Ukulele at the Kamehameha Schools' Kapālama Campus.