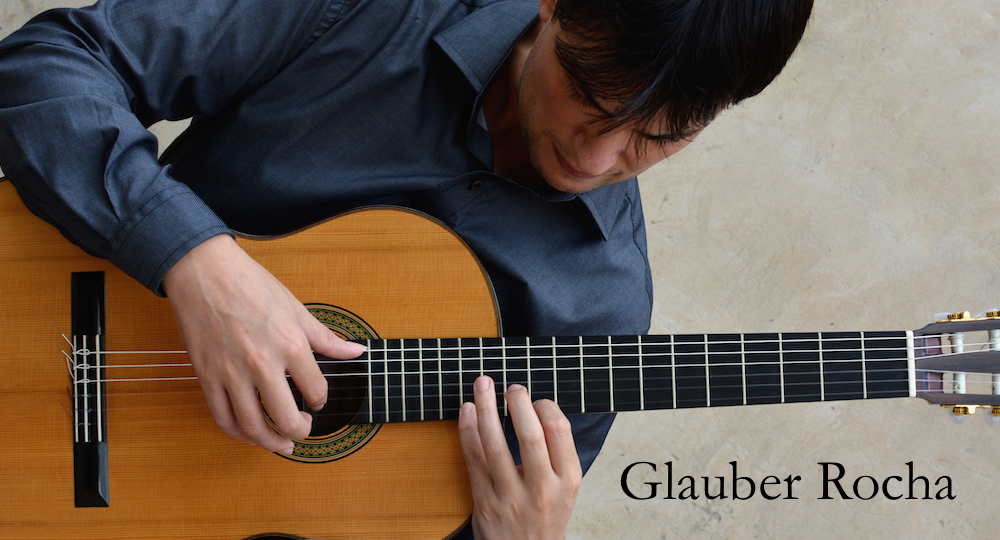 "Glauber Rocha is one of the greatest talents of the new generation of Brazilian guitarists. With a precise technique, an unusual musicality and a clear pure sound Glauber is a differentiated artist who knows how to explore the sonority of the instrument like few others. I am sure he is soon going to be recognized as one of the greatest guitarists in the country." - Marcelo Kayath
Brazilian guitarist Glauber Rocha is quickly becoming one of the guitar world's quickest rising stars. As a solo performer and chamber musician, he has performed in major halls Brazil and across the world, including Kleiner-Konzertsaal Gasteig, Black Box and Carl-Orff-Saal Gasteig, Konzertsaal Cervantes, Casa Verdi, Conservatory of Coimbra, Art Museum of Sao Paulo, Ipiranga Hall Museum, Rondon Pacheco Theater, Municipal Theater of Poços de Caldas, Asunción National Theatre, Municipal Theater, CCSP Jardel Filho, and many more. Glauber graduated from the University of Sao Paulo-USP, in 2009, after studies with Professor Edelton Gloeden. That same year, he took first prize in his first international guitar competition, the Barrios WorldWideWeb Competition.
In 2008, Glauber took part into the 1st Leo Brouwer Internacional Festival, when he had the honor to be conducted by the acclaimed guitarist, composer and maestro Leo Brouwer, integrating the group who made the first hearing of the Cuban master's Los Negros Brujos se Diverten.
Glauber Rocha has been an invited recitalist in prestigious chamber music series both in Germany and Brazil. In Munich, he participated in Virtuoses de la Guitarre and Winners & Masters. While in São Paulo, he performed in Araraquara and Ribeirao Preto: Movimento Violão.
In November 2013 he was invited to perform a concert at the IV Leo Brouwer International Guitar Festival, alongside many of the worlds best players, including David Russell, Jonathan Leathwood, Duo Assad, Ana Vidovic, and Jorge Caballero. Glauber studied at the Hochschule für Musik und Theather in Munich, Germany, under the guidance of professor Franz Halasz. Currently, he manages his career as a concert performer and prepares his first CD with music by J.S.Bach and others.