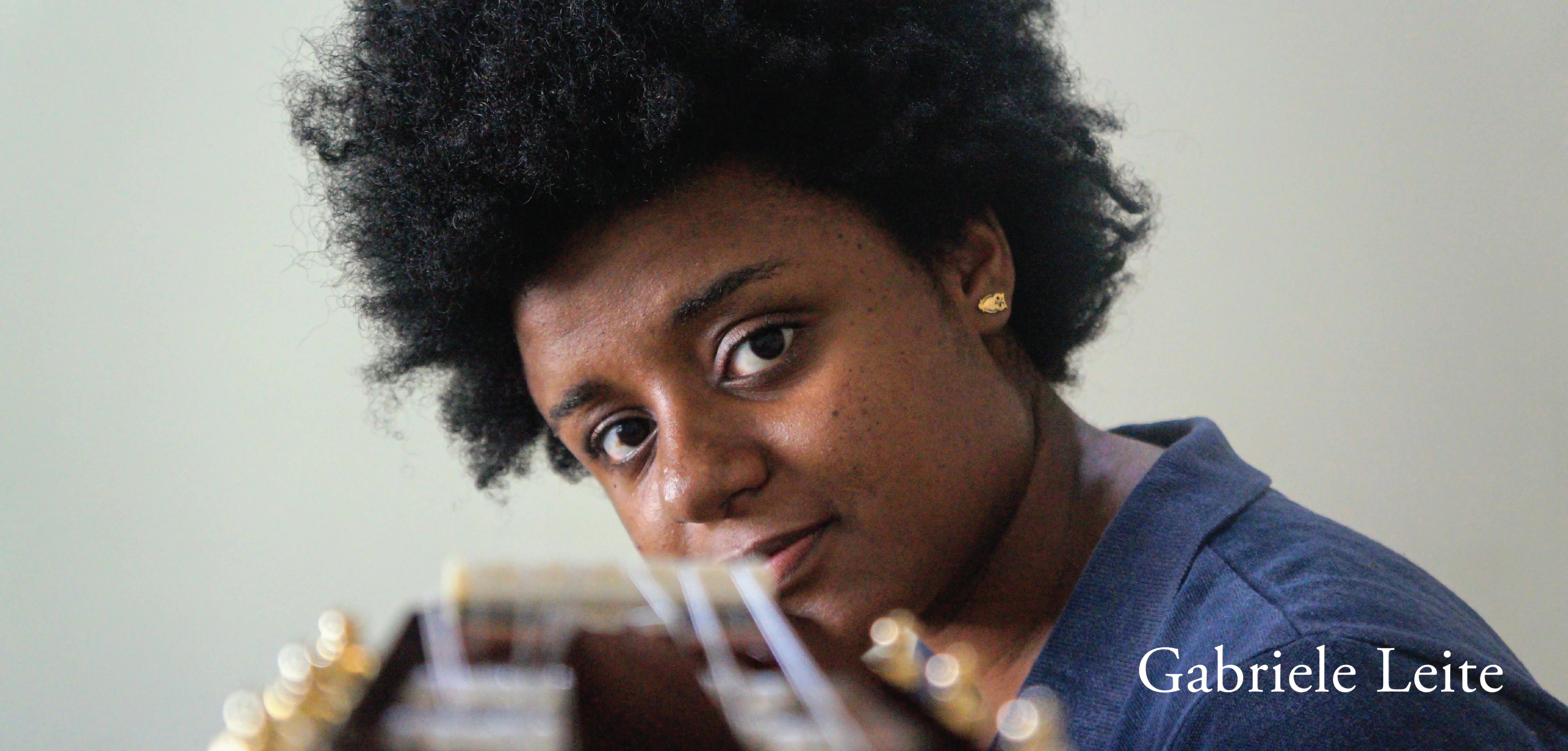 "We need to talk more about
Gabriele Leite" - Geledés Magazine
Gabriele Leite is currently pursuing a Master of Music in Guitar Performance at Manhattan School of Music. A recipient of the 2020-21 Maeceneta Foundation Scholarship, Ms. Leite studies with Mark Delpriora. Representing Brazilian classical music in the prestigious under 30 list of Forbes Brasil magazine Gabriele Leite is a young Brazilian classical guitarist that "we need talk more about" described by Geledes magazine.
Awarded from many competitions as the 2019 "Koblenz International Guitar Competition Hubert Kappel", 2018 "AssoVio Vertentes Guitar Competition", 2018 "Souza Lima Guitar Competition", 2018 "Musicalis Guitar Competition", 2017 "Movimento Violão Guitar Competition". Ms. Leite is an active soloist and chamber musician based in Brazil and New York.
Originally from Cerquilho, Brazil, Gabriele Leite started playing music at a young age. She studied at "Projeto Guri" and "Tatuí Conservatory of Music". Ms. Leite holds a bachelor's degree in Guitar Performance at the State University of Sao Paulo (UNESP), with Dr. Gisela Nogueira. Her teachers included Edson Lopes, Angela Muner, and Paulo Martelli. With Camila Silva, Nicolas Porto Silva and Octavio Deluchi, Ms. Leite is a founder member of BCGC – Brazilian Classical Guitar Community coordinator, a platform to publish and spread projects such as Villa-Lobos, Vicente Paschoal and João Luiz Rezende. The goal is to amplify the guitar repertoire through Brazilian music and composers.
Ms. Leite's recent performance and teaching schedule has taken her across the Brazil and abroad to such as Astor Piazzolla Conservatory of Music (Buenos Aires), Brazilian Embassy (Argentine), Tatuí Conservatory of Music (Brazil), Arts Institute UNESP (Brazil), and to such music festivals as the Koblenz International Guitar Festival (Germany), Campos do Jordão Festival(Brazil) , Assad Festival(Brazil), and Vermelhos Festival (Brazil). In the spring of 2016, Ms. Leite started regular classes with Paulo Martelli as a part of Brazilian scholarship from of "Cultura Artística" Society.
In summer of 2020 Ms. Leite was named the winner of an international scholarship of Cultura Artística Society, one of two students selected to receive two-years scholarship to maintenance her master guitar studies at Manhattan School of Music. Ms. Leite also is sponsored as an Augustine Artist since spring 2020.