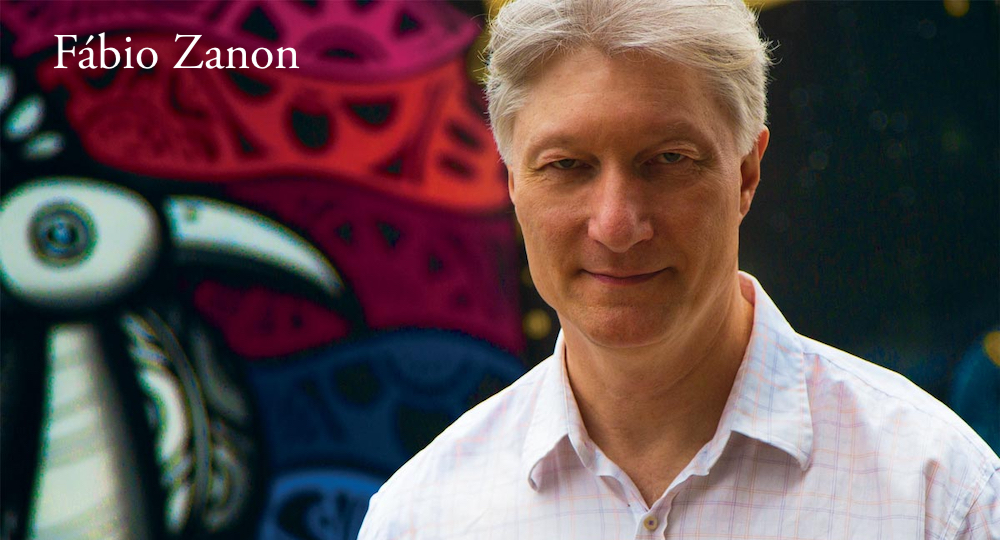 "A member of the highest echelon of living guitarists … fluent technique, great beauty and variety of sound, finely controlled emotional response, and stylistic sensitivity." — Gramophone
Fabio Zanon is one of the pre-eminent guitarists of today. His diversified activity as a teacher, chamber player, conductor, author and broadcaster has contributed to increase the perception of the guitar in the wider musical scene.
As a soloist Mr Zanon has played in more than 50 countries, at venues including Royal Festival Hall and Wigmore Hall in London, Philharmonie in Berlin, Weill Hall at Carnegie and 92nd Y in New York, Tchaikovsky Hall in Moscow, Philharmonie in St Petersburg, Les Invalides in Paris, Concertgebouw in Amsterdam, Rio de Janeiro Opera House, Amazonas Theatre, Sala Verdi in Milan, and KKL in Lucerne to name but a few. He has also regularly played at most major guitar and chamber music festivals around the world. Among many prestigious engagements he has performed for Her Majesty Empress Michiko of Japan.
He has played over 40 concertos for guitar and orchestra, many of them as world premieres, with orchestras such as London Philharmonic, BBC Symphony, São Paulo Symphony, Ulster Orchestra, RTÉ Symphony in Dublin, Israel Chamber Orchestra, I Fiamminghi, Evgeni Svetlanov State Orchestra in Moscow, and Deutsche Kammerakademie. With the São Paulo Symphony - OSESP he has recorded Rodrigo's Concierto de Aranjuez and Francis Hime's Guitar Concerto, conducted by Alondra de la Parra, a recording nominated for a Latin Grammy award in 2011.
He is sought after as a chamber player, having played together with such distinguished musicians as flautist Marcelo Barboza, violinists Nigel Kennedy, Nicolas Koeckert and Daishin Kashimoto, oboist Alex Klein, and singers of all styles, ranging from soprano Carole Farley to folk/pop singers like Toquinho, Ney Matogrosso and Maria Mulata.
He has also been recognized as a conductor and is perhaps the only guitarist who regularly performs as a soloist/conductor. He has directed the award-winning South American premiere of Michael Nyman's opera The Man who Mistook his Wife for a Hat. As a broadcaster he has conceived and presented over 200 programmes for Radio Cultura in São Paulo, many of whose have been adopted as teaching material at music schools in Brazil and Portugal.
Mr. Zanon had his musical education in his native Brazil, where his main teachers were his father and professors Antonio Guedes and Henrique Pinto. He holds a bachelor degree from University of São Paulo and a Master of Music degree from the University of London. He moved in 1990 to London where he studied at the Royal Academy of Music with Michael Lewin; there he also attended master classes with Julian Bream and John Williams.
Although not greatly drawn to competitions, Mr. Zanon had his career propelled with the first prize at both the Guitar Foundation of America in the USA and the Francisco Tarrega Competition in Spain in 1996. Prior to that he had been a top prize winner of competitions in Alessandria (Italy), Toronto and Havana. In 2014 he was elected a Fellow of the Royal Academy Music, an accolade reserved for exceptionally distinguished alumni like Simon Rattle or Evelyn Glennie.
Mr Zanon has been a Visiting Professor at the Royal Academy of Music in London since 2009; he has also been a regular teacher at the Master Guitarra Alicante in Spain since 2014. In 2008 he was an artist-in-residence at the Royal Stockholm Conservatoire in Sweden. He's been a teacher-in-residence at the Lisbon-Estoril International Festival since 2011. He has given master classes at most prestigious schools in the USA, Canada, Latin America and Europe, including Juilliard, Manhattan and Gnessin schools.
Since 2014 Mr Zanon has been the artistic director of the Campos do Jordão International Music Festival in Brazil, the largest classical music festival in South America, where he supervises orchestral and educational activities of hundreds of orchestral students.
He has recorded for labels such as Musical Heritage, Decca, and BIS and is now a GuitarCoop artist.