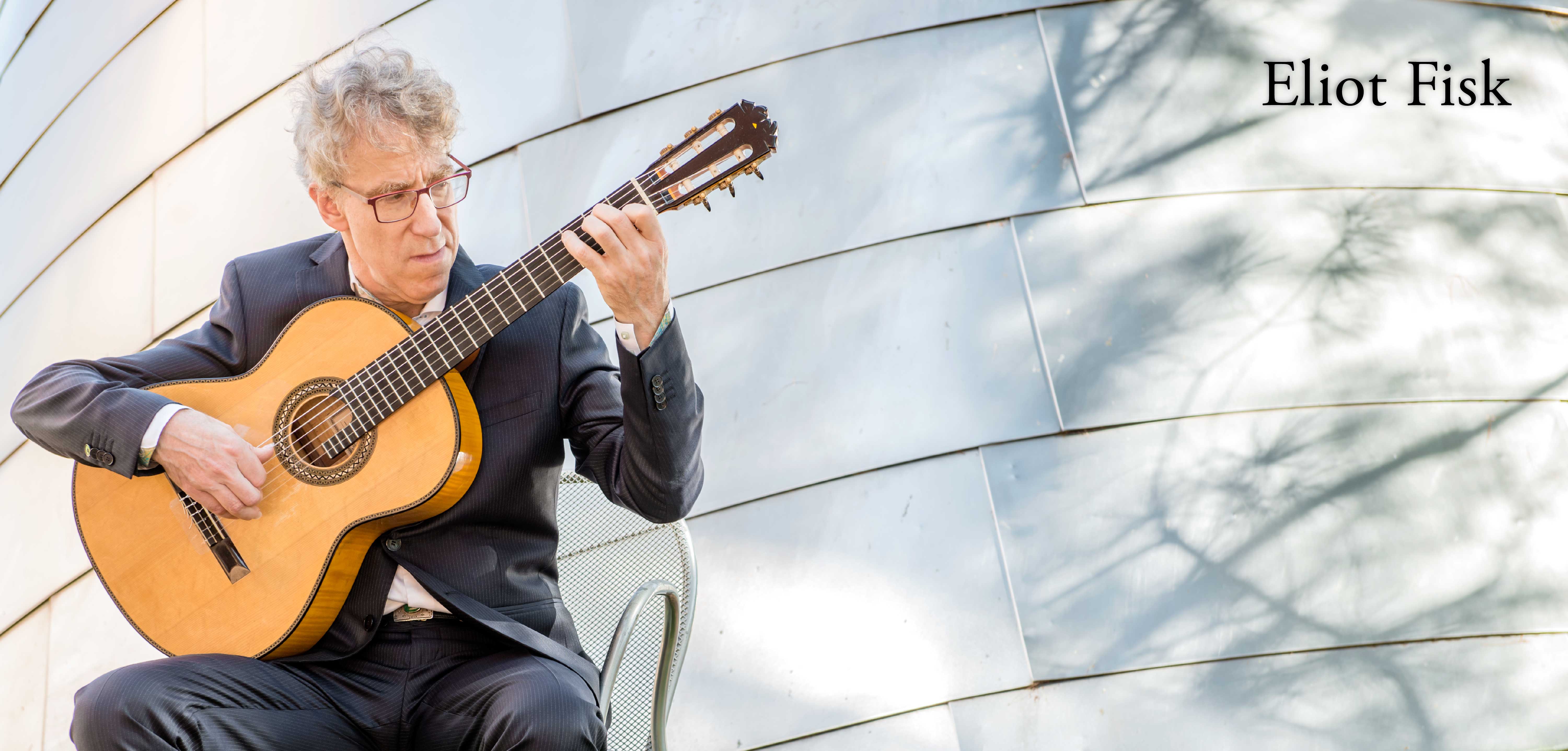 "I consider Eliot Fisk as one of the most brilliant, intelligent and gifted young musical artists of our times, not only amongst guitarists but in all the general field of instrumentalists. His clear and flexible technique, his noble style of interpreting the beauty of the classic compositions as well as the colorful music of today, put him at the top line of our artistic world." – Andrés Segovia
Eliot Fisk was the last direct pupil of Andres Segovia and also studied interpretation with the legendary harpsichordist Ralph Kirkpatrick at Yale University, from which he graduated with a BA "summa cum laude" in 1976, and where, after earning his MM degree with honors in 1977, he founded the guitar department at the Yale School of Music later that same year.
A passionate advocate for the cause of music, Eliot Fisk was described by one New York Times headline as a "Fiery Missionary to the Unconverted." Eliot Fisk has been performing around the world to critical and public acclaim and in many of the world's most prestigious concert halls for over half a century.
He has revolutionized the repertoire of the guitar through his groundbreaking transcriptions of countless works across 5 centuries including the entire J.S Bach solo violin, cello and lute music, the 24 Paganini Capricci , dozens of Sonatas by Domenico Scarlatti and numerous other compositions from the Renaissance to the present day.
Eliot Fisk has commissioned numerous works for solo guitar, chamber music with guitar and guitar and orchestra from eminent composers including, Luciano Berio, Leonardo Balada, Robert Beaser, Ralph Gawlick, Cristobal Halffter, Nicholas Maw, George Rochberg, Daniel Bernard Roumain and Kurt Schwertsik among many others.
Since 1989 he has been Professor at the Universität "Mozarteum" in Salzburg, Austria, where he teaches in 5 languages, and since 1996 in Boston at the New England Conservatory, where in 2010 he received the Krasner Award as "Teacher of the Year."
In June 2006, King Juan Carlos of Spain, awarded Eliot the "Cruz de Isabel la Católica" for his service to the cause of Spanish music. Earlier recipients of this honor have included Andres Segovia and Yehudi Menuhin.
In summer of 2014 he toured China for the first time performing with his wife, classical guitarist, Zaira Meneses, and the couple's young daughter, pianist, Raquel Fisk.
Together with Ms. Meneses, Eliot Fisk is Founder and Artistic Director of Boston GuitarFest (www.bostonguitarfest.org) an annual cross-disciplinary event co- sponsored by the New England Conservatory and Northeastern
University and now entering its 16th consecutive year, and the newly launched Eliot Fisk Guitar Academy. In 2017 he created and served as
Artistic Director of the first ever and immensely successful Salzburg Guitar Fest at the Universität Mozarteum in Salzburg.
Many of his dozens of CDs dating back to the mid 1970's have become best sellers and established his place as predicted by his mentor Andres Segovia many years ago " at the top line of our artistic world."
Eliot Fisk met Rose Augustine in 1973 and the two immediately became the best of friends. Rose was instrumental in bringing Eliot to the attention of Andres Segovia and the result was a first 2 hour meeting in Segovia's hotel room at the Hotel Westbury at 69th and Madison in New York City at which Eliot performed his own transcriptions of Scarlatti Sonatas and Segovia's transcriptions of Bach including the famous Ciaccona from the violin Partita in D minor. Thereafter Eliot played for Segovia regularly whenever the Maestro was in America and always at the Westbury. Eliot's tribute to Rose following her death in 2003 recalls the many years of their friendship and expresses his deep gratitude for her generosity and kindness over a thirty year period.