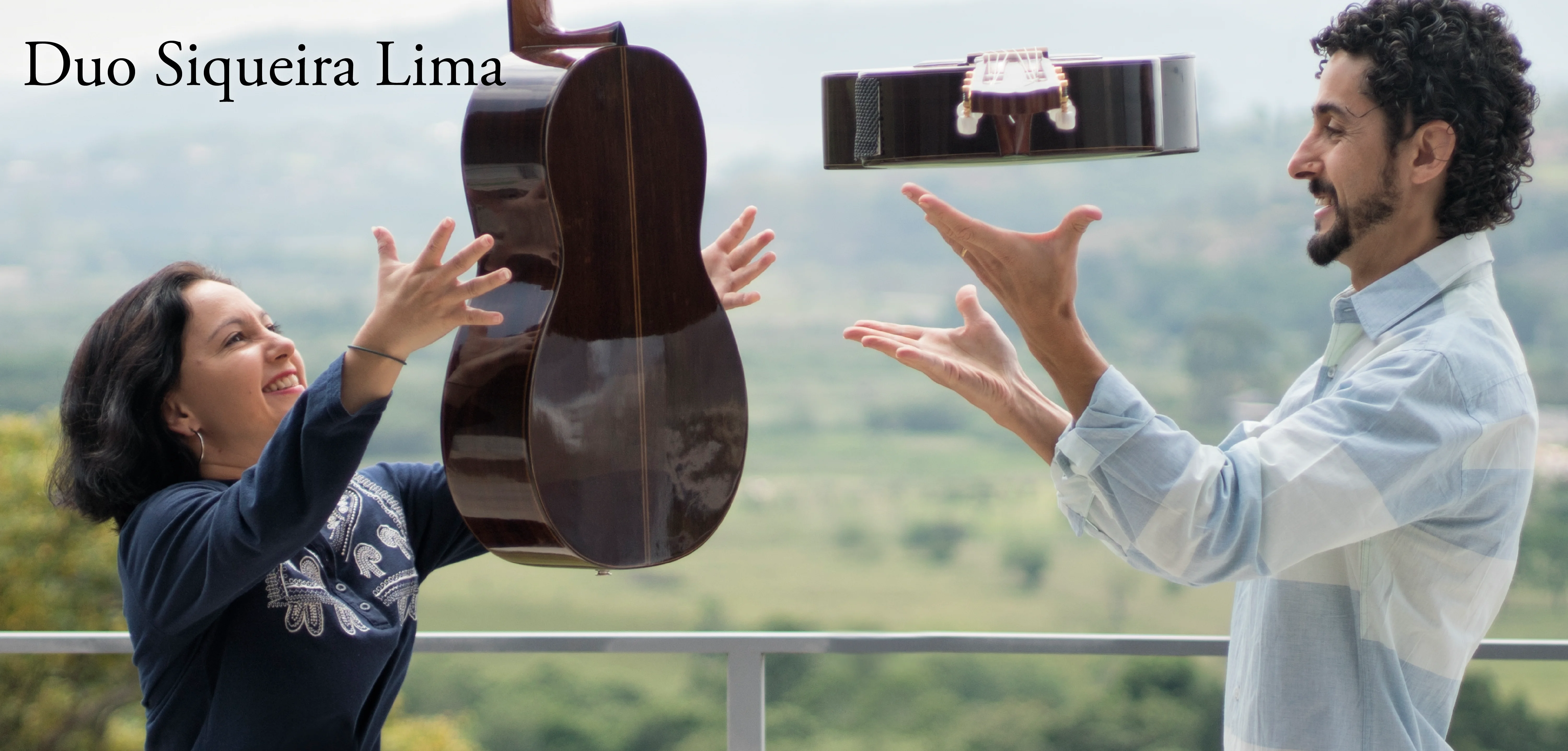 "Cecilia Siqueira, from Uruguay, and Fernando de Lima, from Brazil were more geographically diverse in pieces as finely detailed as a Fabergé egg." – The New York Times
Duo Siqueira Lima is one of the most prestigious guitar ensembles nowadays having won the "Profissionais da Música Award 2015" in Brazil and the "International Brazilian Press Awards 2014" in the United States. Their work features music of the classical repertoire as well as Latin America popular music.
They are recognized for their technical and interpretative virtuosity, perfect engagement, and for their daring and original arrangements made for two guitars.
Their versatility and wide repertoire have already resulted in different albums:
∙ Tudo ConCorda – Independent released, 2003.
Extensive repertoire, ranging from classical to popular music.
∙ Lado a Lado - Independent released, 2006.
Original arrangements of popular Brazilian music.
∙ Um a Um - GHA Records, 2010.
Dedicated to Brazilian music, with original arrangements and playing for the first time brand new songs created especially for the duo.
∙ The Art of Duo Siqueira Lima - GuitarCoop, 2015.
Dedicated to the Latin American as well Spanish composers.
∙ Impressions – GuitarCoop, 2019.
Works by Debussy, Mendelsshon, Castelnuovo - Tedesco, F. Moreno Torroba, Ernesto Halffter, and Tchaikovsky.
Cecilia and Fernando met at the "II International Guitar Competition Pró-Música/SESC" in 2001 in Caxias do Sul, a city in the south of Brazil, where they shared the first prize. This event was the most important moment for the creation of the duo and marked the beginning of an international career.
Since 2003, they have toured the world performing in major European capitals, many cities in North America as well as sojourns to Africa and Russia. They are favorites throughout the major music centers and prestigious halls as Lincoln Center (New York), New World Center (Miami), Het Concertgebouw (Amsterdam) among others.
They are also asked for workshops and master classes at several music institutions and festivals across the world as 26th Koblenz Guitar Festival (Germany), Conservatoire Royal de Liège (Belgium), 6th Copenhagen Guitar Festival (Denmark), XIV Wiosenne Koncerty Gitarowe (Poland), University of Florida (USA), SMU Meadows School of Arts (USA), Universidade Federal do Rio de Janeiro (Brazil), among others.