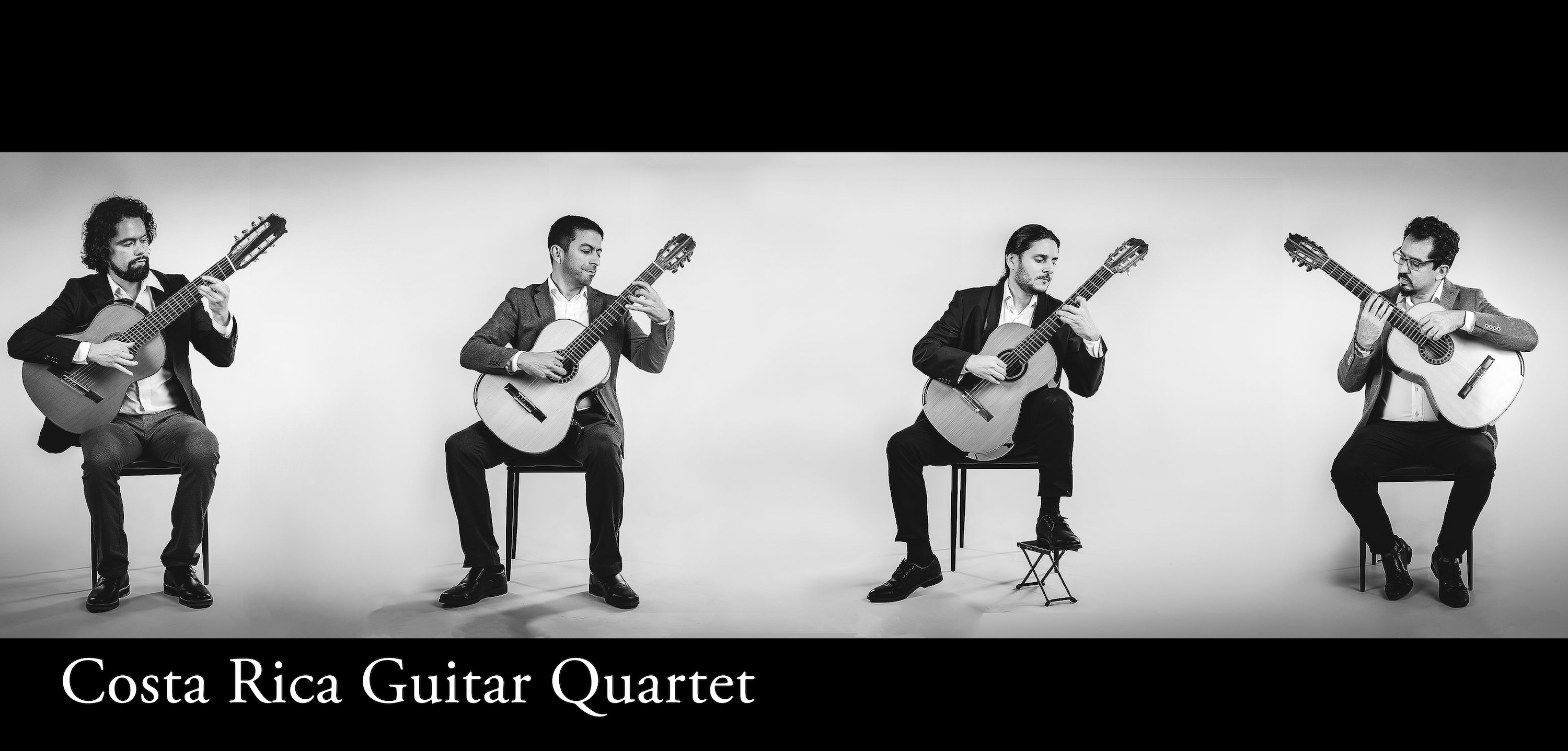 "Individually they are exceptional, together they are wonderful." - Luis Zumbado
Formed in 2008 and comprised of guitarists Julio Monge, Nicolás Alvarado, Edmundo Núñez and Manuel Durán, the Costa Rica Guitar Quartet has distinguished as one of the most outstanding chamber groups in its country by promoting the creation and dissemination of the Costa Rican and Latin American music.
Winners of Costa Rica's National Music Award "Carlos Enrique Vargas", the 2nd Prize in the III Mexico Guitar Ensemble Competition, the ACAM Award and the Ibermusicas Fund, the quartet has performed in prestigious venues such as the Royal Opera House of Musical Arts in Oman, the Maison de l'Amerique Latine in Paris, the University College of London, the University of Cambridge in the United Kingdom, as well as Loyola Marymount University in Los Angeles, USA. Their performances have spanned a diversity of nations such as the UK, the Netherlands, France, Luxembourg, Belgium, Spain, the United States, Mexico, Panama, Nicaragua and Oman, with notable appearances at the prestigious Granada International Guitar Festival and the Emili Pujol Guitar Festival, both in Spain, the International Guitar Festival "Corazón de América" in Nicaragua and the International Guitar Festival of Costa Rica.
Their two recorded albums, "Eso es Imposible" (2011) and "Noche Caribe" (2017) have received excellent reviews, as have their collaborations on the albums: "Compositores Nuevos... Visiones Nuevas: Música de Cámara Costarricense" (2012), "Desde las Entrañas de mi Tierra" (2012), "Nosotros" (2014), compilations of works by various Costa Rican composers, and "Haikus" (2023), by Costa Rican composer and Latin Grammy winner Eddie Mora.
The quartet has premiered music by renowned composers and arrangers from their country, including Grammy winners Carlos José Castro, Eddie Mora and Edín Solís, as well as the internationally recognized composers José Mora-Jiménez, Allen and Alonso Torres and Guido Sánchez-Portuguez. Additionally, they have given Central American premieres of works by Celso Machado (Brazil) and Emmy winner Carlos Rafael Rivera (USA), in collaboration with the composers themselves.
In symphonic performances, the CRGQ has appeared with the Symphony Orchestra of Cartago and the Symphony Orchestra of the Castella's Conservatory interpreting the Joaquin Rodrigo's "Concierto Andaluz", as well as premiering Carlos Castro's "Concierto de Uxarrací" and Edin Solis's "Retorno -Concert for Guitar Quartet and Strings Orchestra", works dedicated to the quartet and performed alongside the Symphony Orchestra of Cartago and the Symphony Orchestra of Heredia, respectively.