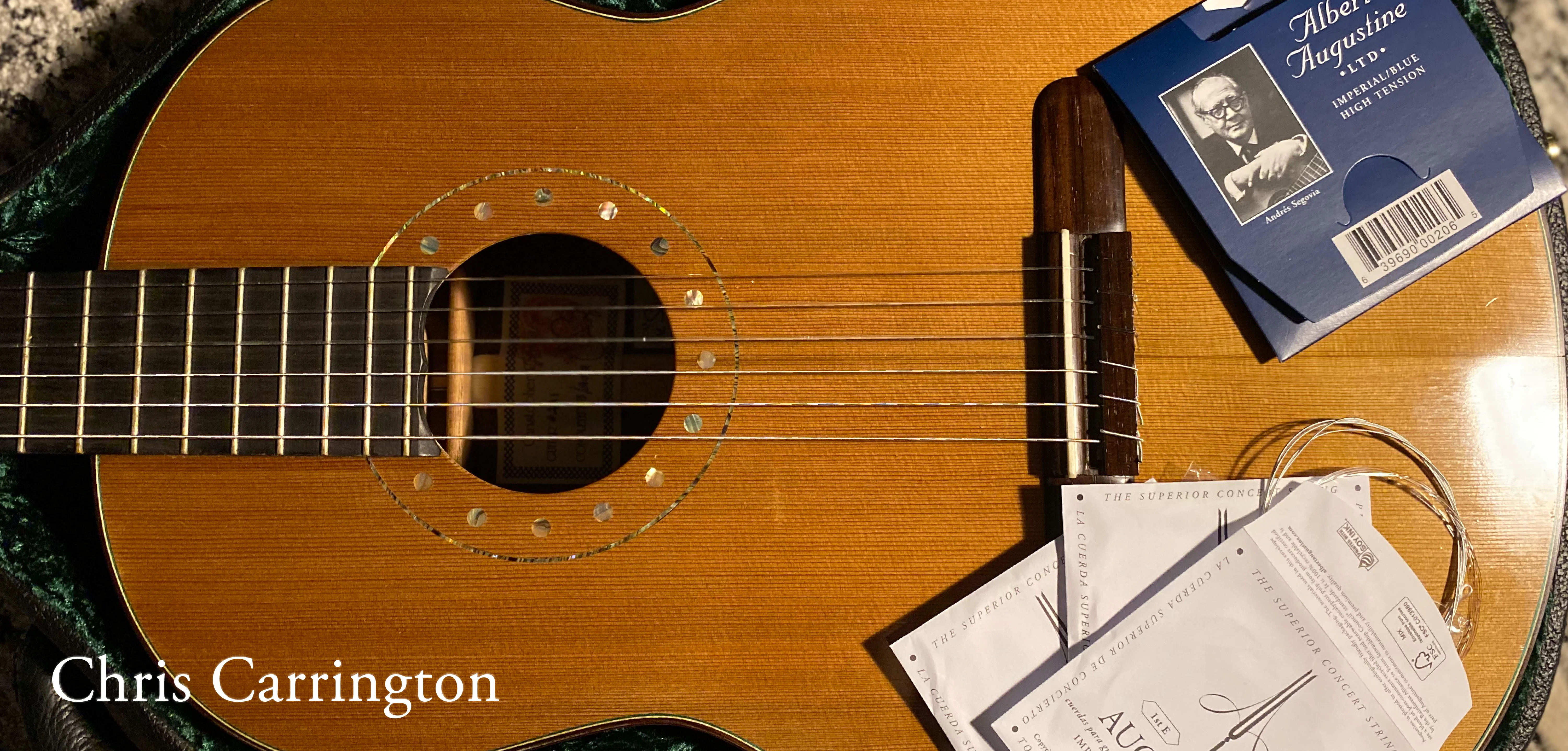 "Chris Carrington is one of the most open minded and creative guitar makers on the planet, he understand what a player wants and needs from a guitar because he is a player, and a bad-ass one at that. His guitars represent the future of classical guitar." Dominic Frasca
Christopher Carrington grew up in Caracas, Venezuela and New York City. The richness of these diverse cultures is fused into his musical character and training along with the influence of his parents, both professional musicians (cellist and opera singer). The pop music explosion of the sixties provided a perfect compliment for a devotion to the guitar. In the early 60s, Chris studied violin, piano and the Venezuelan "quatro" (a small four course guitar), then migrated to the guitar with the music of the Beatles, Stones, Doors, Hendrix, The Who etc.... Upon entering college, Chris decided to "get serious" with the study of classical guitar, becoming a classical guitar major, and receiving both a Bachelors and Masters Degree in Guitar Performance. His teachers include: Oscar Ghiglia, Nelson Amos, Aaron Shearer, Manuel Barrueco, Andres Segovia, Jose Tomas, and Robert Guthrie.
Mr. Carrington has served on the Guitar faculty at numerous institutions including Cornell College, U. Texas at Arlington, and University of North Texas.
Musical activities of note include playing with the Heidelberg Chamber Orchestra, twelve years of worldwide touring with guitar legend Al Di Meola, and local appearances with The Dallas Symphony, The Dallas Bach Society, The Dallas Opera, The Dallas Shakespeare Festival, The Fort Worth Symphony, Ray Charles, and Chet Atkins.
Along with performing and teaching, Chris is also an active luthier, hand-building 10-20 instruments a year. His specialty: crafting high end concert classical guitars, and electro-acoustic-and MIDI interfacing. He performs on his own guitars exclusively, and builds to spec for professionals, collectors, and serious students.