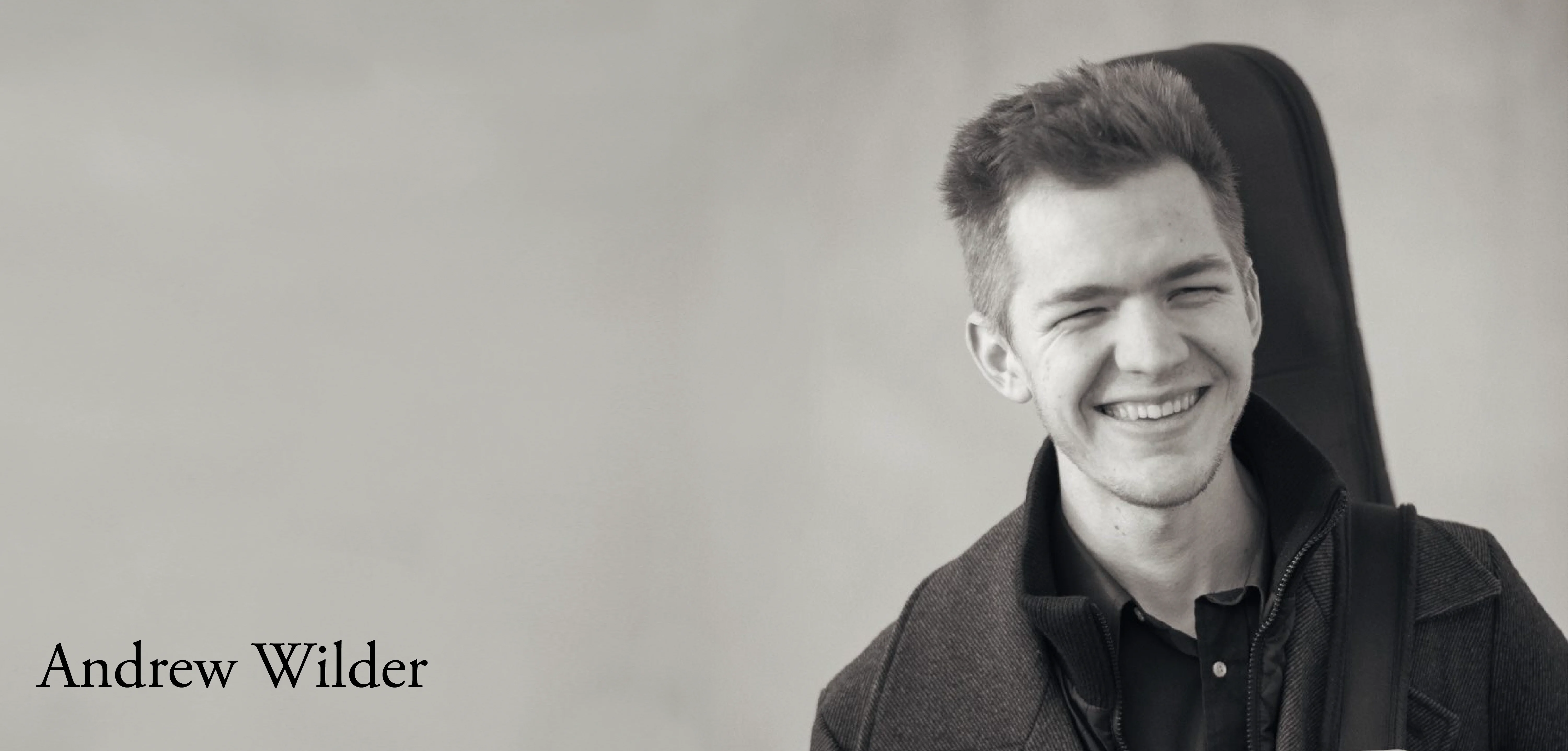 "The artistic integrity and poetic depth of Andrew Wilder are difficult to describe with words: one has to see it to believe it. In the guitar world, there is only a fistful of performers who never fail to inspire me with their playing. Andrew is one of these rare artists, and he is definitely the youngest one. And when he walks on a stage and plays the guitar, he unfailingly takes my breath away with the wonders of his music making, from the very first note to the very last one." - Nicolò Spera
American classical guitarist Andrew Wilder began his musical education at an early age under the instruction of his parents, both of whom are professional classical musicians. Upon completing high school, he traveled to Europe to study in the Istituto Musicale Pareggiato Della Valle D'Aosta in Aosta, Italy, and in the following year, the Conservatorio Svizzera Italiana in Lugano, Switzerland, where he completed two Artist Diplomas in Guitar Performance under the instruction of Lorenzo Micheli. Wilder then completed a Bachelor of Music in Guitar Performance with Dr. Andrew Zohn at Columbus State University and a master's degree in Music Performance with Dr. Dieter Hennings at the University of Kentucky. He has also studied interpretation and transcription extensively in private lessons and classes with Paul Galbraith at the Musik-Akademie in Basel, Switzerland.
As a soloist, Wilder has performed recitals throughout the United States and Mexico, Europe, and South America. He has also been the recipient of several awards, including the First Prize in the Guitar Competition of Society of American Musicians, First Prize in the International Tennessee Guitar Competition, and First Prize in the University of Louisville International Guitar Competition.
Wilder has a particular passion for Baroque and Classical music and has been active in researching and transcribing pieces for solo guitar and chamber ensembles, especially works by J.S. Bach, C.P.E. Bach, Mozart, and Haydn. This artistic focus generated an ongoing project to perform the complete lute works of J.S. Bach on the guitar from memory. Wilder has presented the program in recitals in the United States and Mexico, performing the complete cycle of all thirty movements in each recital. Wilder recently released an album of the cycle entitled Bach: Complete Lute Works on Guitar.
"I have known Andrew Wilder for many years. Having had the pleasure to work with him in my class both in Italy and Switzerland, I have seen his artistry develop and blossom. Andrew is a sensitive, creative, thoughtful player; seldom have I met a young musician with such a true and deep understanding of the reasons - and the emotions - behind the score." - Lorenzo Micheli
"There are two qualities in Andrew Wilder that mark him out as well-nigh unique in guitar-playing circles: one is his complete lack of conceit, putting himself entirely at the service of the music; the other is the level of intensity with which he performs, as if music-making were a matter of life or death. Which indeed, for the real artist anyway, it is." - Paul Galbraith