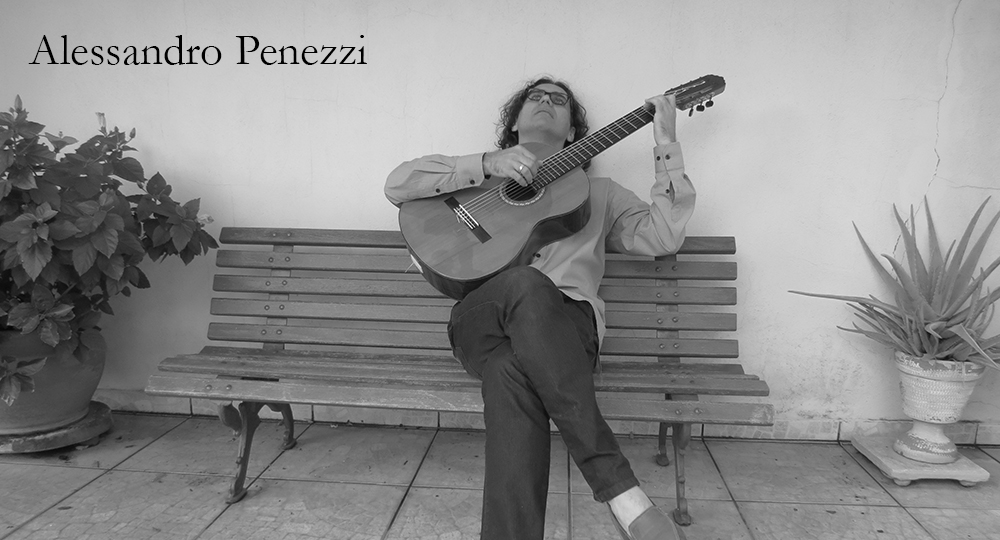 "Everything makes us to realize that we're facing a genius with his magical guitar and his wonderful compositions."
- Aquiles Rique Reis
Hailing from Piracicaba in the São Paulo countryside, Alessandro Penezzi started his musical studies at the age of 7. A multi-faceted composer and arranger, Alessandro performs on the 7-string guitar, tenor guitar, cavaquinho, mandolin, and flute. Alessandro graduated from the Escola de Música de Piracicaba under the tutelage of maestro Ernst Mahle. He also holds degrees from Universida de Estadual de Campinas (Unicamp) and in Creatives Processes' Specialization by Souza Lima Faculty.
He has participated in "Regional de Carlos Poyares", Trio Quintessência and Grupo Choro Rasgado, performed as trio with Yamandú Costa and Rogério Caetano and Sizão Machado and Alex Buck. As a duo, Alessandro has performed with Hamilton de Holanda, maestro Laércio de Freitas, Alexandre Ribeiro, and Nailor Azevedo "Proveta". Other collaborations include projects with Dominguinhos, Hermeto Pascoal, Zimbo Trio, Beth Carvalho, Sílvio Caldas, Billy Blanco, Alaíde Costa, D. Ivone Lara, and Orchestras as Jazz Sinfônica (Sao Paulo) and London's Symphonic.
With performances across the globe, spanning the United States, Gabon, Angola, Italy, German, Denmark, Netherlands, Argentina, Uruguay, Colombia, Morocco, Portugal, among others, Alessandro has received many awards, including the VISA MPB Instrumental, Premio Tim de Música Brasileira, Premio Shell de Teatro e Prêmio da Música Brasileira. In 2016 Alessandro composed the soundtrack for SOS Fada Manu, the new fifty-two episode Brazilian animation by Gloob Channel.
Alessandro's compositions are published and recorded by Alfred Music (Germany), Yamandú Costa (BR), Danilo Brito, Beth Carvalho, Dexter Payne (USA), Brian Silber (USA), NY Regional (USA), and Ted Falcon (USA).