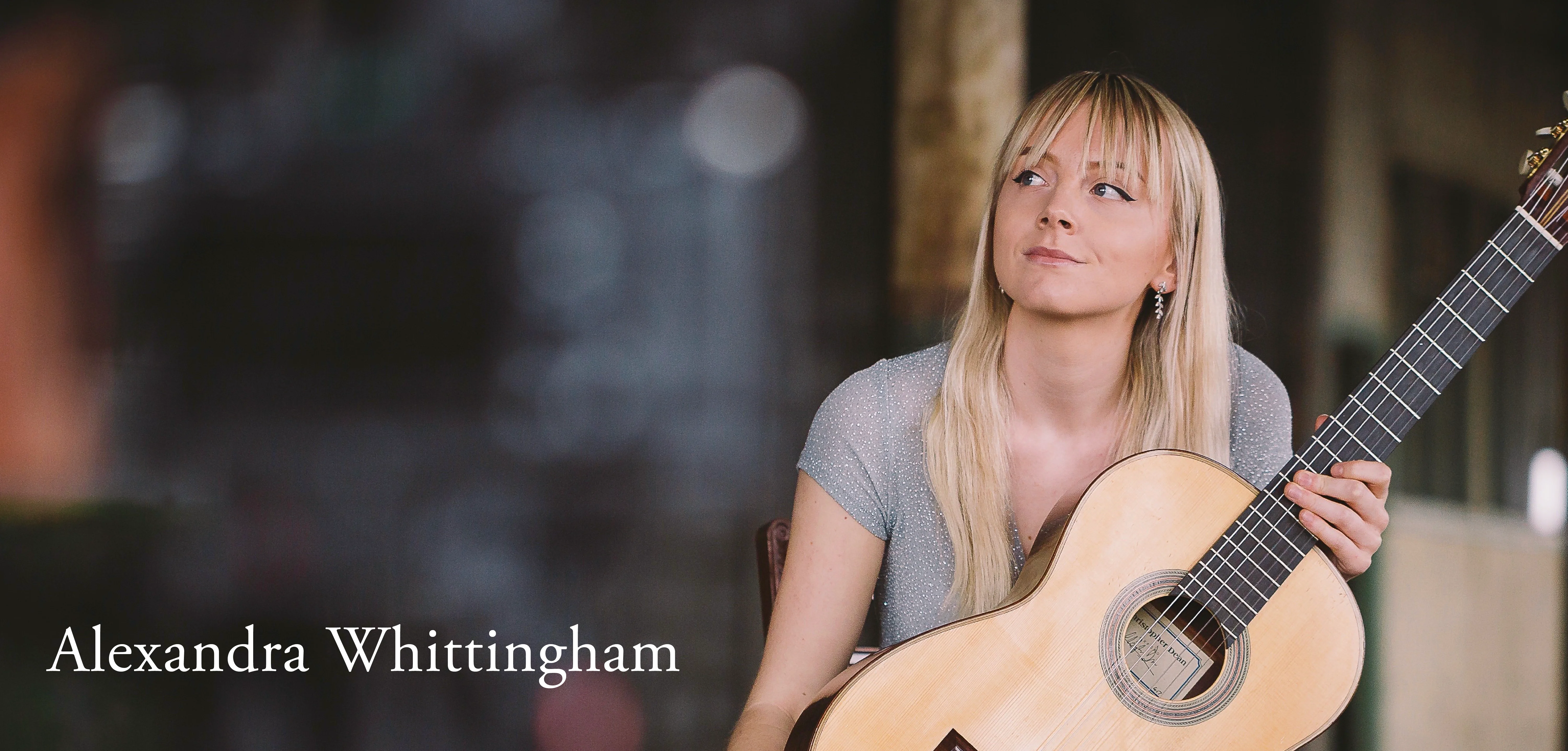 "Whittingham's performance features some beautiful musicality, clean playing, and nice tone, she is a young artist to keep an eye on." - This Is Classical Guitar
After studying classical guitar, piano, jazz guitar and composition at the world-renowned Chetham's School of Music for seven years, Alexandra Whittingham now studies at the Royal Academy of Music in London.
During her time at Chetham's, Alexandra had many opportunities to play with various ensembles, such as a string quartets, guitar duets and jazz groups, which resulted in her becoming a member of Wigan Youth Jazz Orchestra. With the orchestra came the opportunity to tour Germany and Czech Republic, where they sold out various venues within the two countries.
In her final year at the school, she also gained her LRSM (Licentiate of the Royal Schools of Music) second diploma in guitar performance.
In the spring of 2013, Alexandra won the inaugural Edinburgh Guitar Competition. Following this, she travelled to Budapest to take part in the Carpathian International Youth Guitar Competition, where she gained second place. In early 2015 at the Gregynog Young Musicians' Competition, Alexandra also became Gregynog Young Guitarist of the year and has more recently reached the finals several competitions within Europe.
Alexandra was delighted to be invited to perform at Abbey Road Studios alongside singer-songwriter Imelda May for EMI Music and Sound Foundation. She has also enjoyed giving recitals in Europe at such places as Festival Le Temps des Guitares in South-West France, Vilnius Town Hall in Lithuania and various festivals in Italy.
Other venues in which Alexandra has played include opening the European Guitar Teachers' Association Conference, The Bridgewater Hall in Manchester, The Yehudi Menuhin School and the British Embassy in Paris, where she performed to an invited audience of diplomats in February, 2015.
Later that year, she was also invited to perform Castelnuovo Tedesco's Concerto No.1 with the Gorton Philharmonic Orchestra, since which Alexandra has been invited to play the work a number of times with orchestras including Dorset Chamber Orchestra.
A new guitar programme shown on Sky Arts in 2015, highlighting all four genres (classical, jazz, acoustic and rock), featured Alexandra performing her way to the classical final of the competition, which gave her the opportunity to play in Milton Court Concert Hall at the Barbican, London.